I went to Tübingen yesterday with my friends Gamze and Jaime, and it is…..Beautiful! Amazing! Glorious!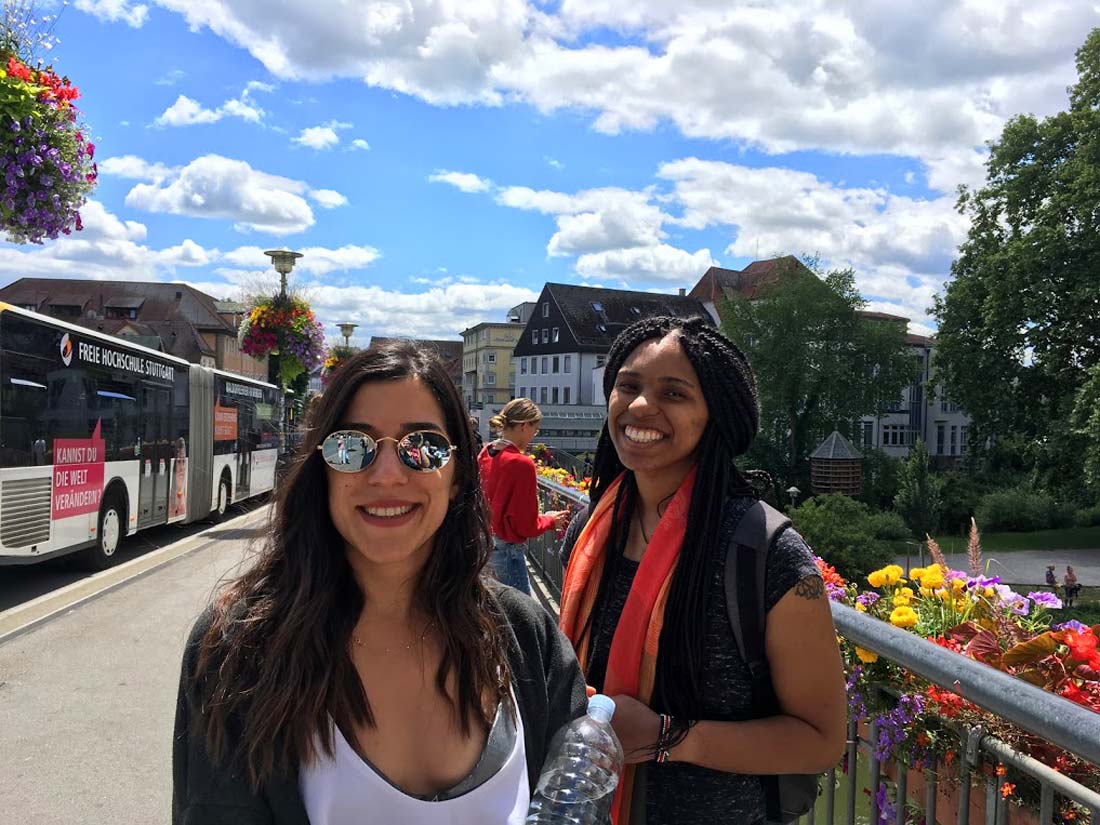 Tübingen is a picture-perfect town about 20 miles south of Stuttgart, and 17 miles north of my new home here in Starzach. It's nestled along the banks of the Neckar River, and the landscape is dotted with hills, trees, flowers, and brightly colored houses with big red roofs. Tübingen is a college town; Of the roughly 100,000 people who live there, a third are students – that makes it the city with the youngest average population in Germany!
This is the Eberhard Bridge, or Eberhardsbrucke, and it spans the Neckar River. As you can see, the Bridge is covered in flowers! It's like a fairy tale! I'd like to think they put the flowers out because they knew I was coming to town but….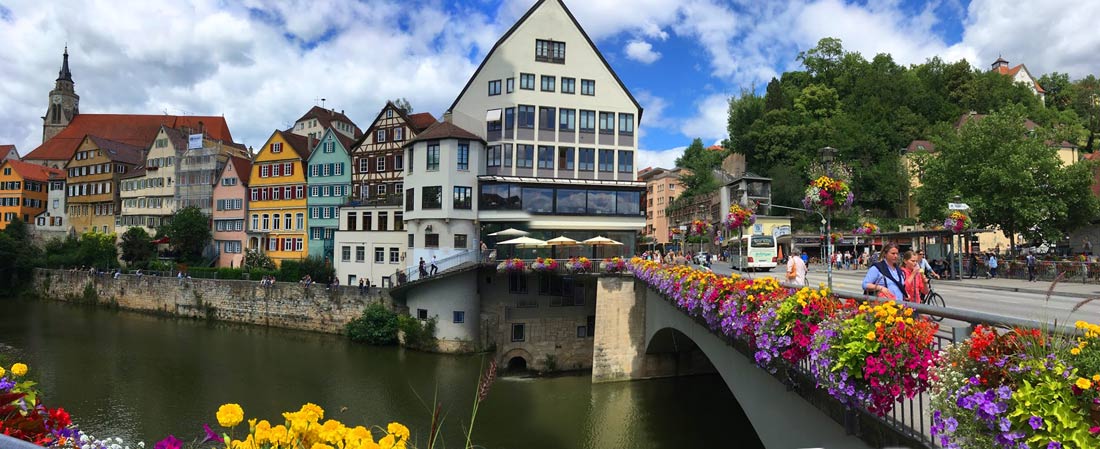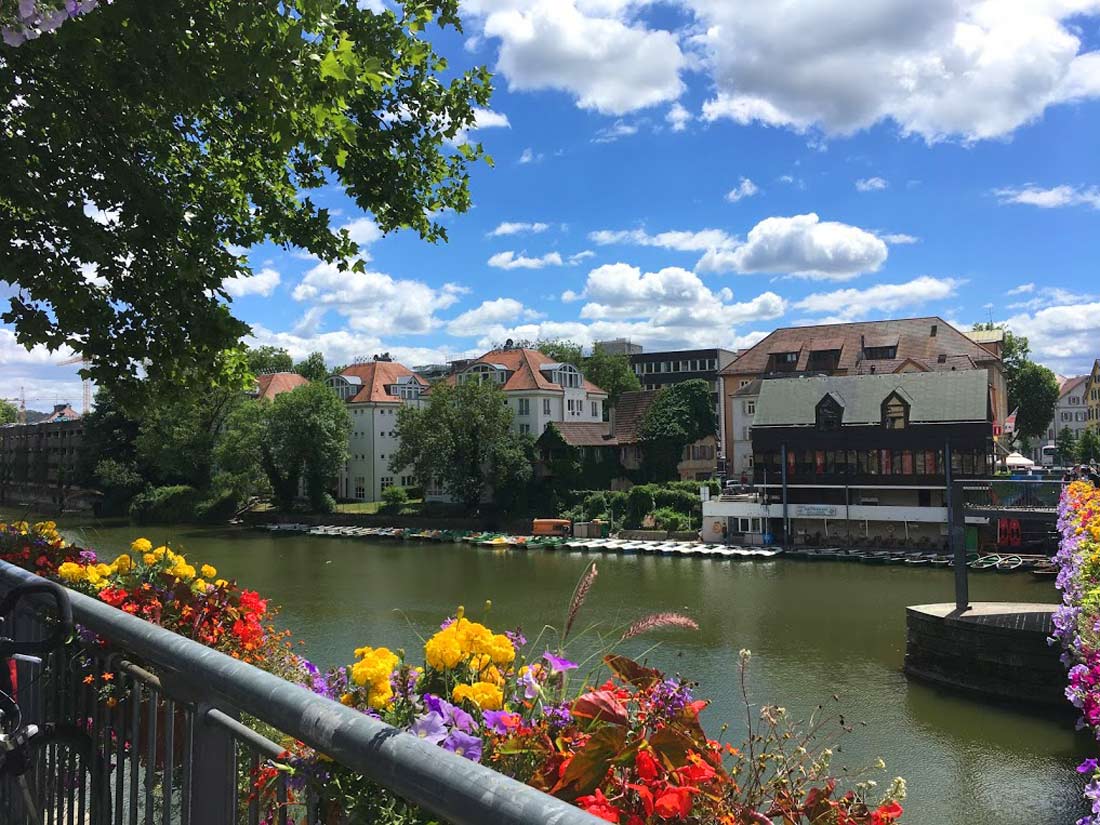 Tübingen survived the War relatively unscathed, so this place has genuine old world charm! You can see it everywhere you look – it's like stepping into the past! There are well maintained traditional homes and buildings that look just as they did centuries ago!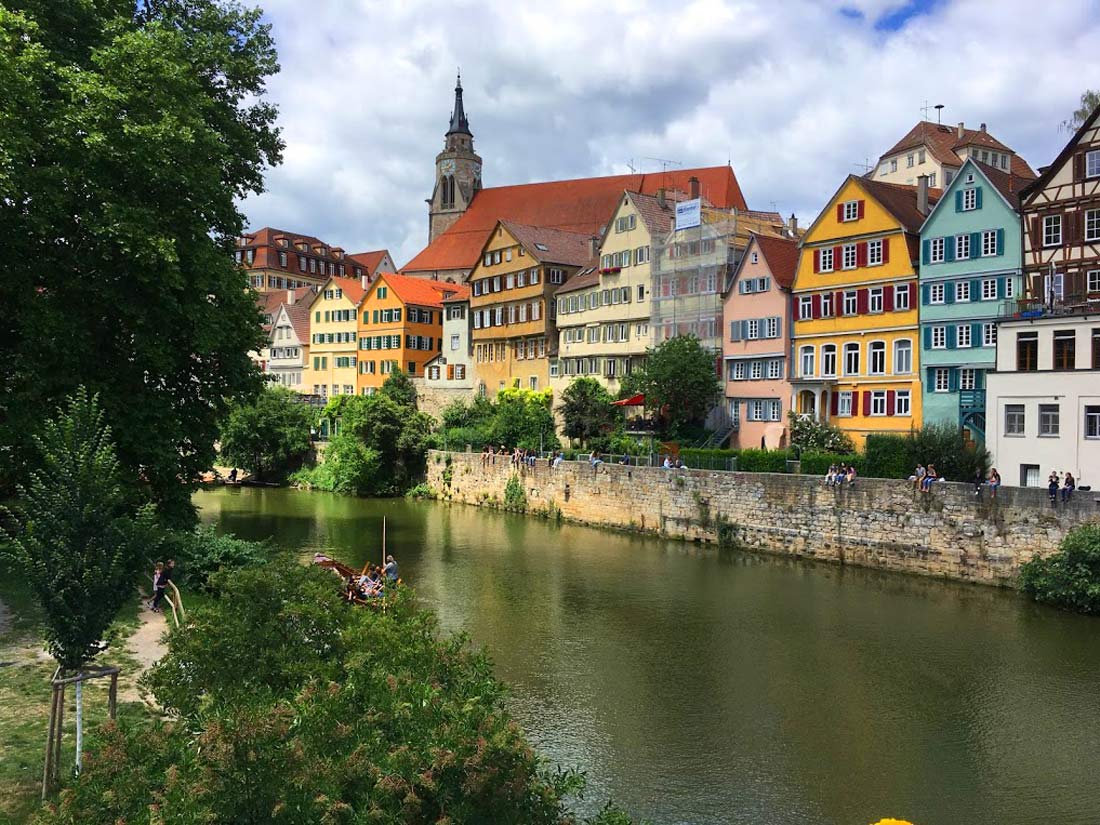 Just look at all the beautiful flowers adorning the streetlights!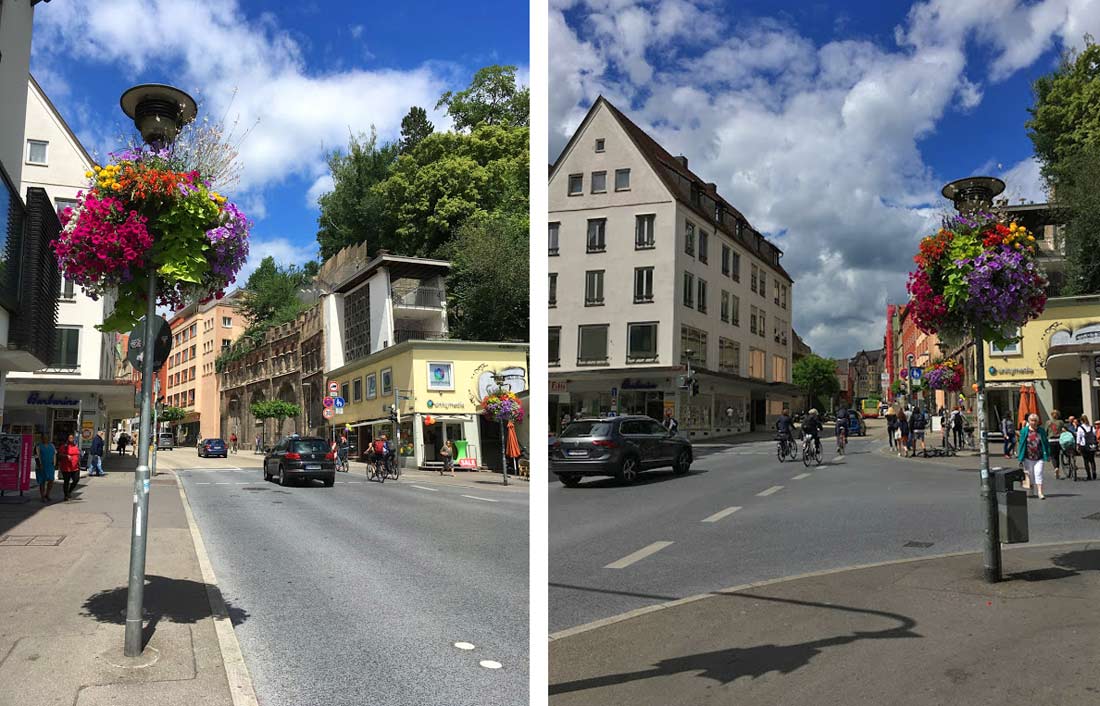 To the west the Neckar River splits briefly into two streams, which forms an island Park named Neckarinsel. It's lined by very tall, very old trees. In the summer they have concerts and plays on the Island. How cool is that! You can see a piece of the Island here in this picture – there are stairs that lead down to it….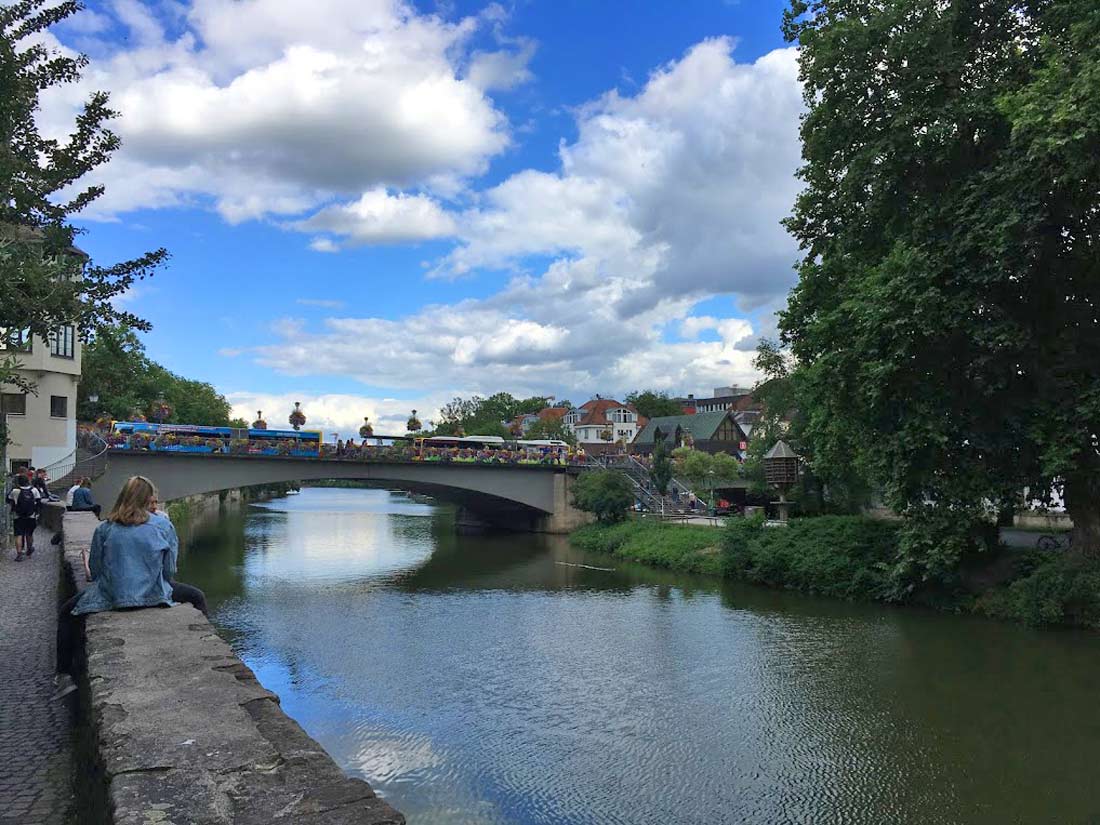 Just below the Eberhard Bridge there's a Bootsvermietung, or Boat Rental place, where you can rent all kinds of boats – including Ruderboote, Tretboote, Kanu, and my favorite, Stocherkahnfahrten. I have no idea what that means, but it's a long word that sounds vaguely dirty, and I sound German when I say it…..

One of the main reasons for my visit was to meet with Dr. Ute Bechdolf, the Director of the German American Institute in Tübingen. ( http://www.dai-tuebingen.de ) When I was back in America, we had corresponded about the possibility of doing a project or a workshop at some point during my Residency in Germany. She's very very nice, and she's doing a phenomenal job bringing our cultures together!! I'm grateful that I had the opportunity to meet with her, and to learn more about the G.A.I. – or the D.A.I. as it's called in Germany. They're such an esteemed organization, I would love to do a project with them one day!
Dr. Bechdolf put me in touch with Gudrun von Funck, a brilliant Artist from Tübingen who did a Residency/Show in Ann Arbor, Michigan through the D.A.I. Gudrun graciously volunteered to be our Guide and show us around Tubingen! Gudrun is super-smart, patient, and generous with her time. We were blessed to have her company! Visit her website at http://www.g-v-funck.de/index.html
That's me and Gudrun on the left, and me, Gamze, and Jaime on the right.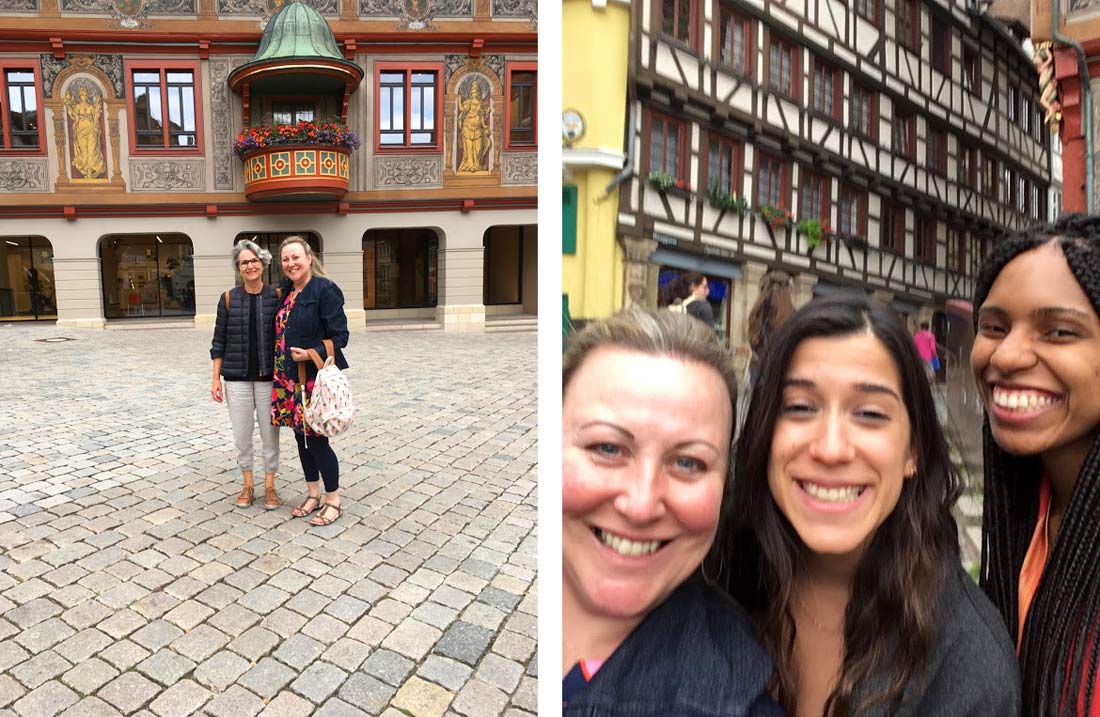 This Gallery is in the lobby of a large modern Municipal Building. The Artists of Kunstort will be having a Group Show here in August. Can't wait!    #kunstortELEVENartspace

The Hohentübingen Castle sits high above the city on Spitzberg Hill, and offers fantastic views of Tübingen. From what I hear the Castle was built during The Renaissance, but the original Castle that stood in this spot was a whopping 500 years older than that!


The view from atop Hohentübingen Castle! You can see all the way around Tübingen – the rolling hills, the red roofs, the big blue sky…..glorious!
Gamze, Jaime, and I stayed in Tübingen until about 10:00. It was a great day! Today I'm on my way back to Rottenburg for a bit.
I'll keep you posted!
Bonnie