The German-American Institute is an organization in Tübingen that promotes dialog and friendship between Germans and Americans. (http://www.dai-tuebingen.de) Their goal is to bring our countries closer together, because we are far stronger together than we can ever be apart! To accomplish that goal, they encourage learning more about each others cultures, history, and traditions; sharing ideas, hopes, dreams, and challenges through personal contact with people and organizations. It's such a worthy endeavor, and for the past 60 years they've been doing an awesome job!
I visited Tubingen for the first time on June 22nd, and while there I met with Dr. Ute Bechdolf, the Director of the German American Institute. She's smart, dedicated, well-spoken, and doing a phenomenal job! It was an honor to meet with her and learn more about the GAI – or DAI, as it's called in Germany. They're such an esteemed organization, I would love to do a project with them one day! Dr. Bechdolf also put me in touch with Gudrun von Funck, a brilliant Artist from Tübingen who did a Residency/Show in Ann Arbor, Michigan through the D.A.I.. (http://www.g-v-funck.de/index.html) Gudrun was kind enough to show me, Jaime, and Gamze around Tübingen on that day back in June. You can read about our adventure in my Blog Post:  http://www.bonnieleeturner.com/travel/tubingen/
Okay, so Fast Forward: Every year the German-American Institute hosts a big gala called a Sommerempfang, or Summer Reception. It's an exclusive event, and it's by invitation only. This year the Event was held on July 11th at the Cloister of Bebenhausen, a former Monastery that was once a Palace. It was built by Rudolph I, Count Palatine of Tübingen, probably in the 1100's. Attending the D.A.I.'s Sommerempfang at this amazing historic Monastery/Palace is like one of those fairy tales that you see in the movies or read about in a Shakespearean play! But who can ever go? It's by invitation only.
Alright, so….are you ready for this? I WAS INVITED!!!
Whaaaaaat??? I KNOW!
Gudrun invited me as her guest, and even offered to put me up for the night so that I wouldn't have to travel back to Starzach really late! How great is that! Oh I wouldn't miss this for the world!!
So last Wednesday, July 11th, I got ready for the big Sommerempfang and boarded a bus to Tubingen. At least I thought the bus was going straight to Tubingen. This made me very happy, because switching buses or trains in Germany is not easy for me. If you don't speak or read German, and you have to decide quickly which bus or train to board, let's just say it can be very stressful! But that didn't matter, because I'm on this bus, and this bus is going straight to Tubingen!
The seats were a little uncomfortable and it was going to be a long ride, so I took off my jacket and used it as a pillow in the small of my back. Then I closed my eyes for a bit. Next thing I know, we're stopped and everyone is getting off the bus. I look up and we're in Rottenberg, not Tubingen. I thought it odd that everyone would be going to Rottenberg, but….okayyy. Maybe some more people will be getting on? The bus driver looks up in his mirror and sees me still sitting there. His eyes get really big. "Tubingen" I say cheerfully. He's a young Pakistani with a kind face who speaks pretty good English. "We're not going to Tubingen!" Now my eyes get really big! He said "The train to Tubingen is right there – right across the parking lot, but they're going to be leaving any second!" I immediately got up and ran off the bus! As I'm running full speed across this parking lot, I realized that I left my jacket on the bus – but now I don't have time to go back for it….I HAVE TO CATCH THIS TRAIN!
I make it there just in time. The doors close and I take a seat by the window. I don't have my jacket, but at least I'm on the right train to Tubingen! The train begins to pull away from the station. I look out the window and the Pakistani bus driver is running alongside the train, looking very excited, waving my jacket over his head. I stand up and place my palms on the window, and it's like a great farewell scene from a classic movie where lovers are saying goodbye at a train station, only this time the lovers are me and my jacket, and we're not likely to see each other ever again. The train is moving faster now and he can't keep up. I shrug my shoulders. He holds his hand to his ear in a gesture meaning that I should call the bus station. I nod and mouth the word "Okay".
The next stop is Tubingen. The village is beautiful – it's always beautiful – but it's already chilly out and it isn't even dark. From the train I make my way to the nearby bus station, and that's where I meet up with Gudrun Von Funck (love her name!) She sees that I'm sleeveless and immediately asks "Aren't you cold?". ""No, no, I'm fine" I say "My lips are always blue…" I had been looking forward to this night, and a little arctic air wasn't going to stop me! "Let's go to Bebenhausen!"
Bebenhausen is a small village in the Tübingen district, but it's about three miles away, so we took a bus. It takes us right to the Cloister of Bebenhausen, where the D.A.I.'s Sommerempfang is just getting started. Woo-Hoo!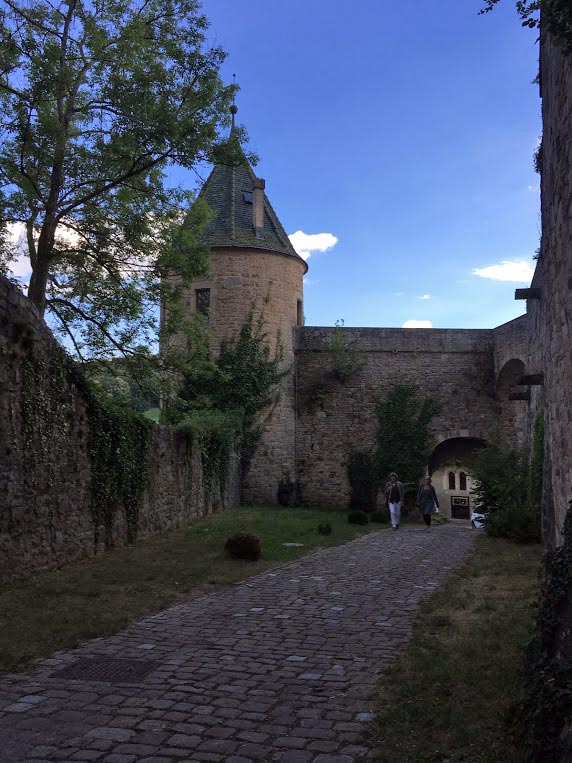 The view here is amazing – it's straight out of a fairy tale!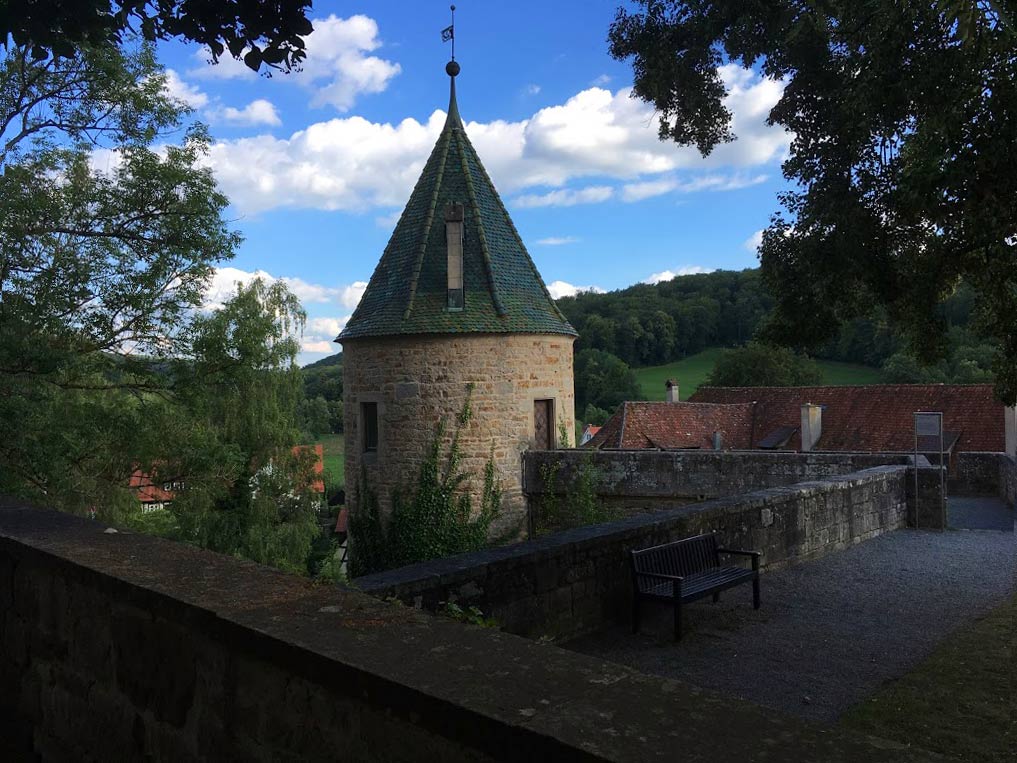 This is an upper courtyard at the Cloister of Bebenhausen: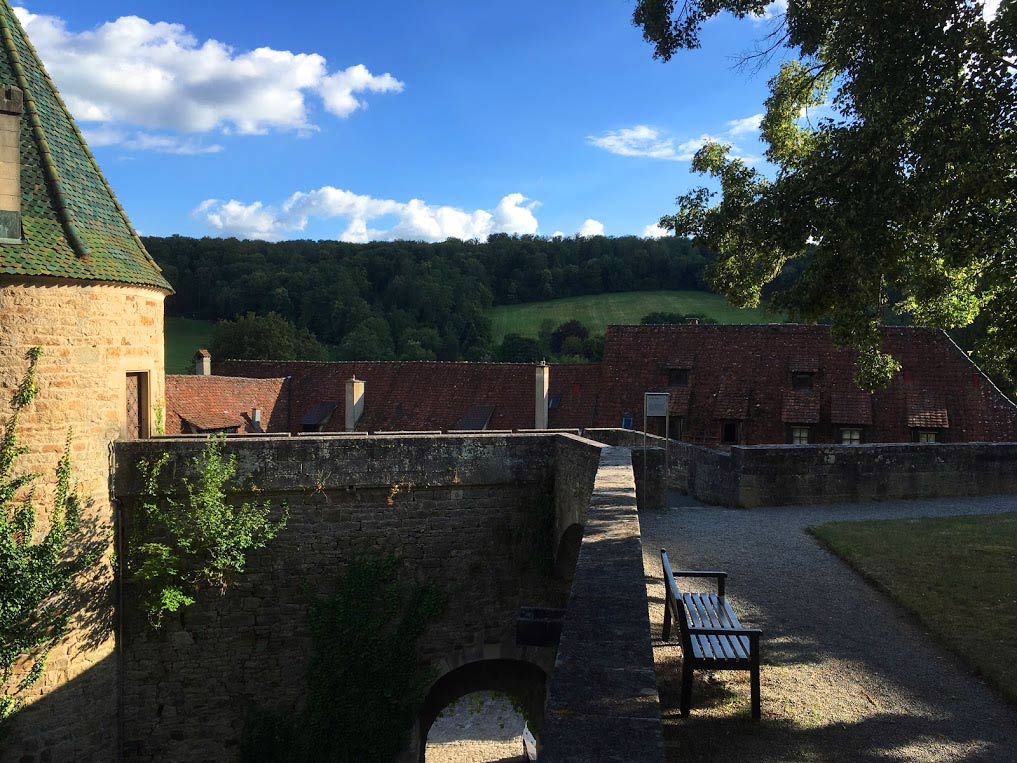 The warm brown stones, the green slate roof, the view of the German countryside…..yes, this tower would be a good Studio for me….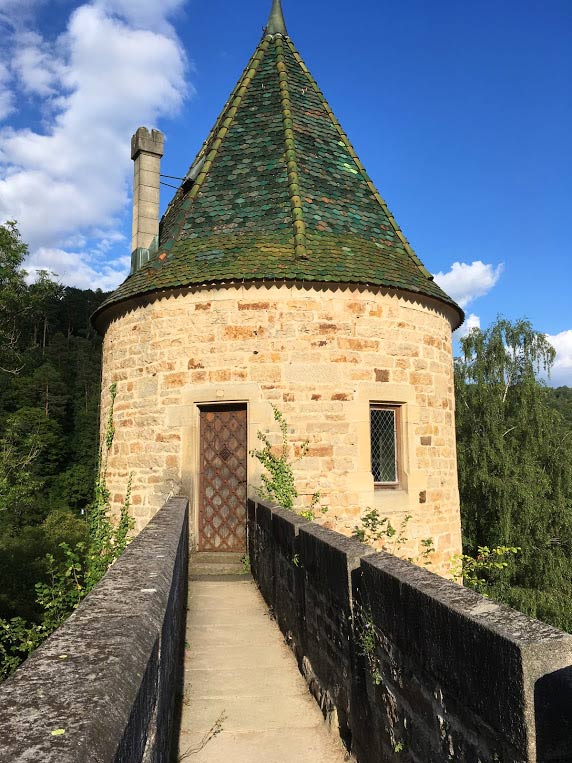 I've taken many pictures like this during my time in Germany, but I never get tired of the green fields and rolling hills; blue sky, red roofs, old world architecture sprinkled with Tudor-style buildings…..Beautiful!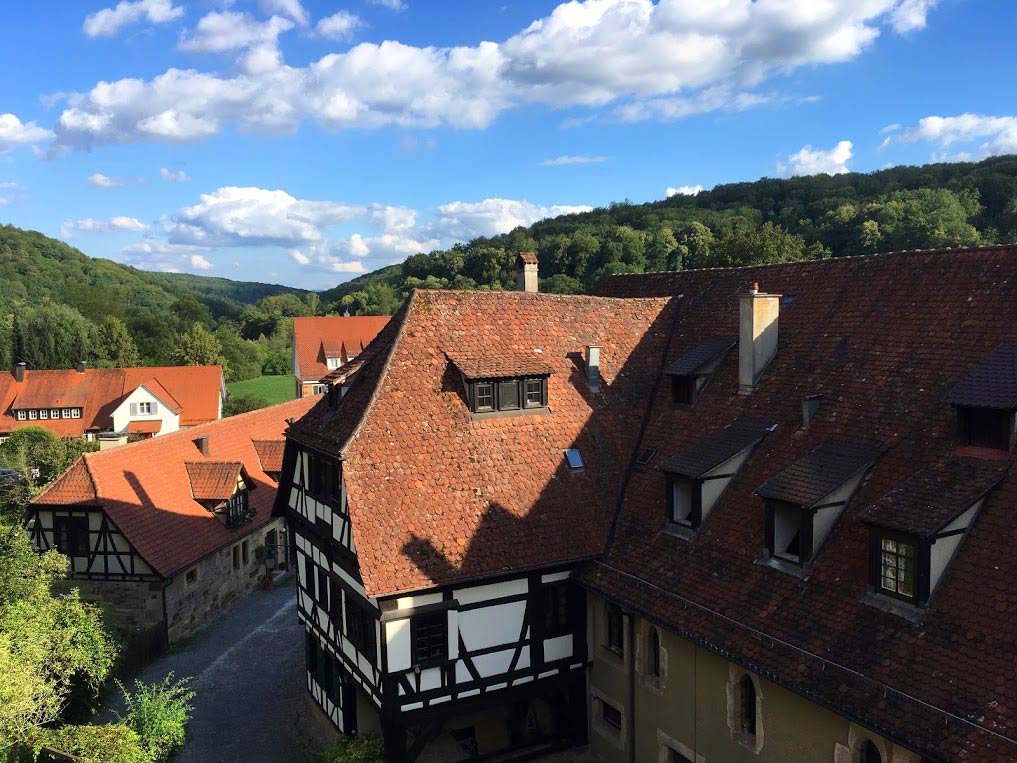 The Cloister of Bebenhausen is almost 1,000 years old. I wonder how many people stood in this same spot and looked over these beautiful hills; and how quiet it must have been here before cars, and airplanes, and electricity!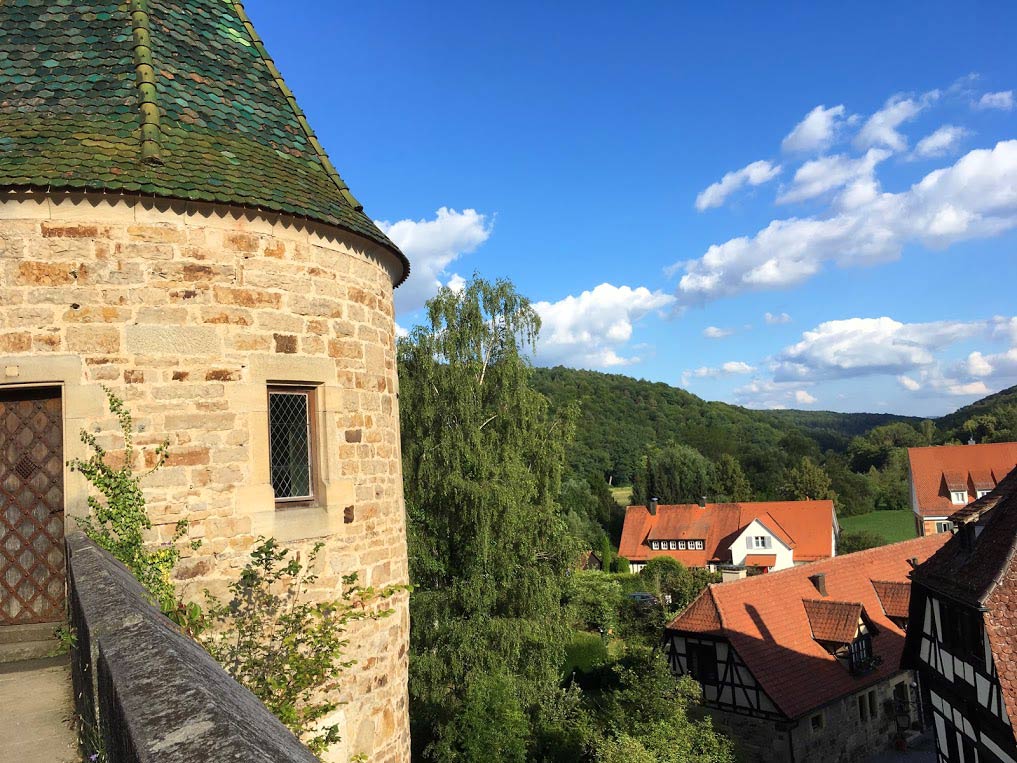 This is the Church at the Cloister of Bebenhausen: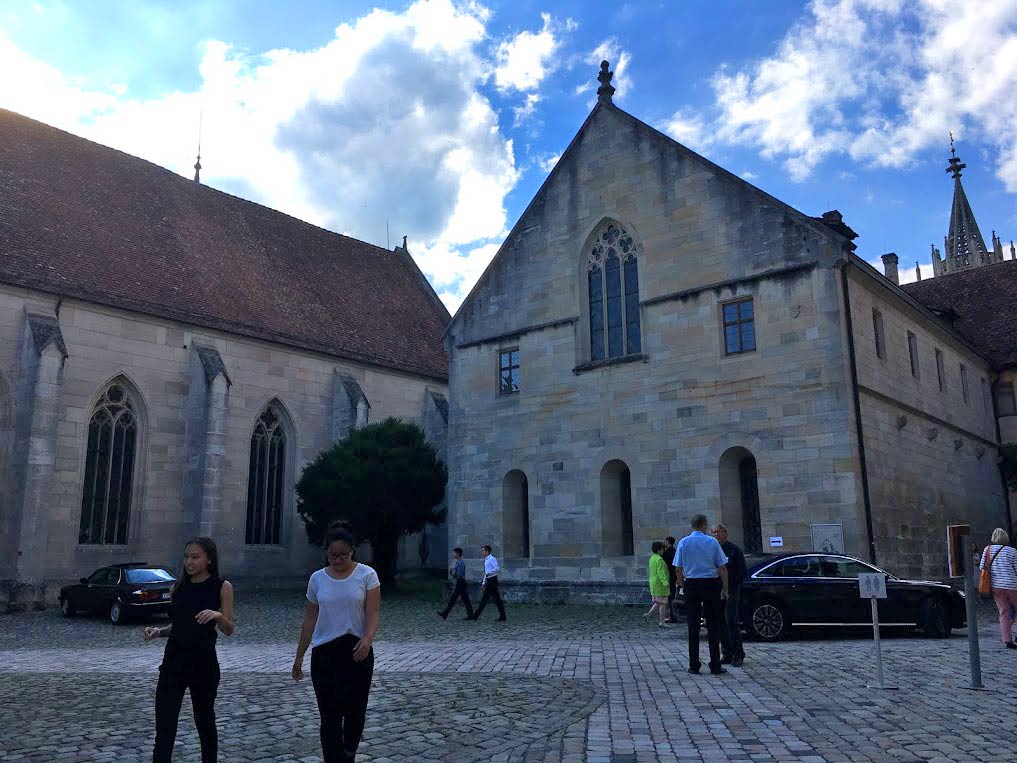 I love this picture! It would make a great cover for a Pink Floyd album!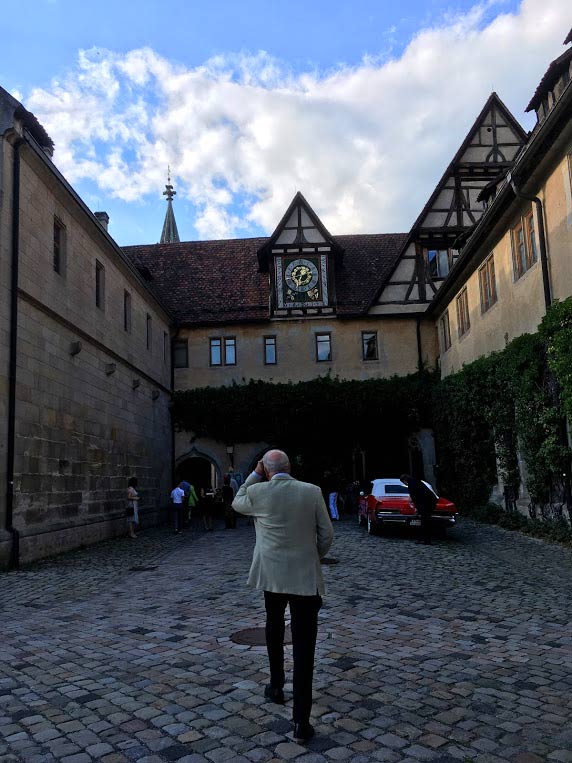 Just inside the Church there are passageways. I'm fascinated by the stonework of the walls and the walk. Each stone had to be placed by hand, carefully cut and fit. As a mosaic artist, I have great appreciation for the artisans who built the Cloister of Bebenhausen!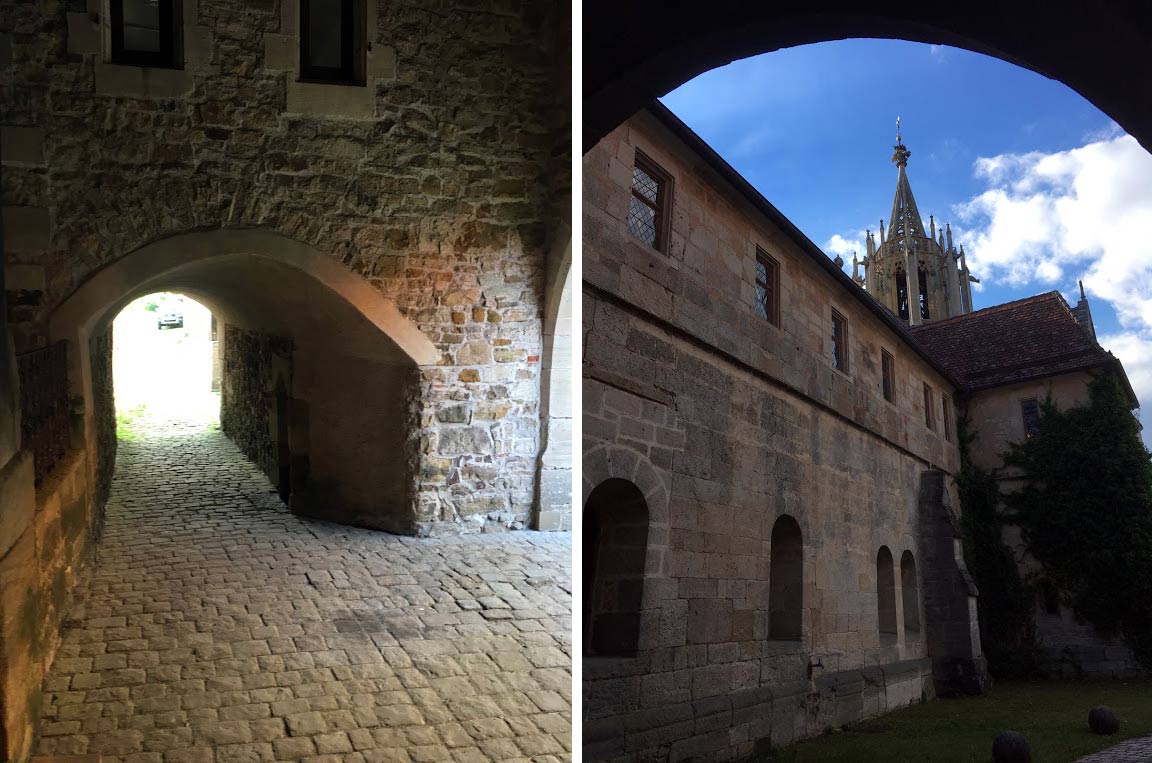 We made it! The Sommerempfang! While I'm picking up several programs I'm distracted by the beauty of the windows and the ceiling design: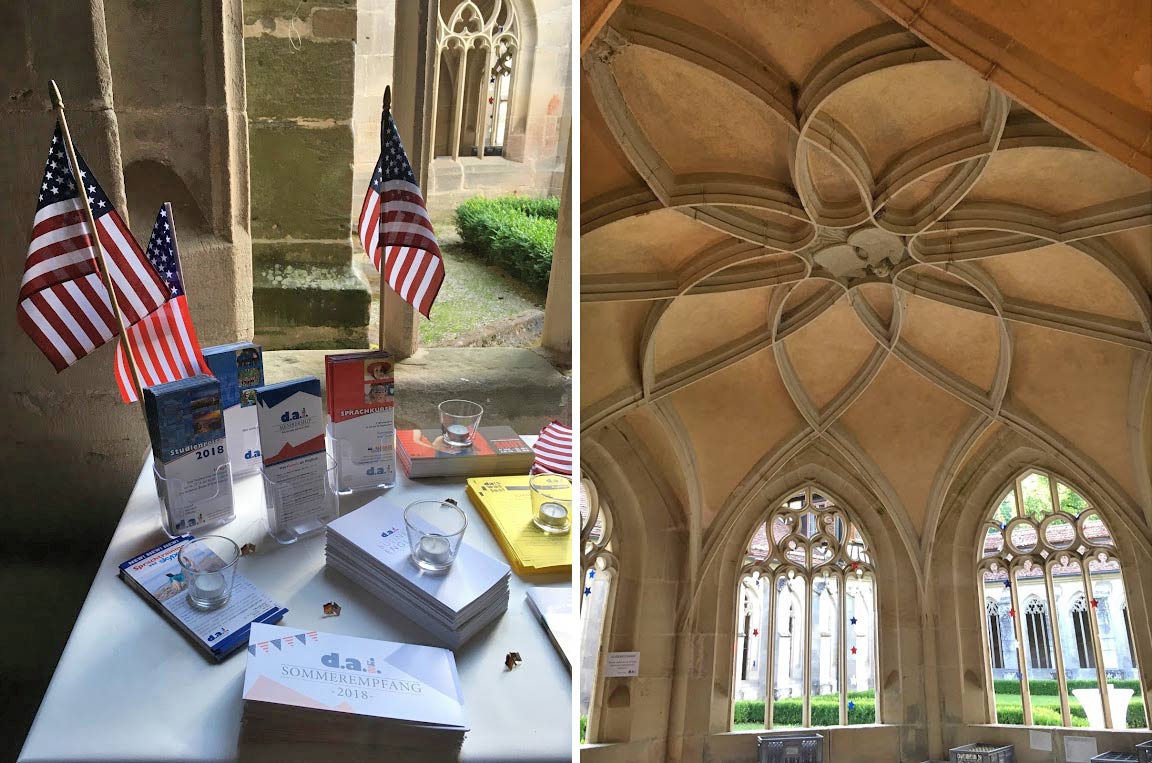 Just look at the detail in this ceiling! The floral design is all painted by hand. Amazing!
Inside the Church, we heard a number of Speakers, including David Elmo, the Deputy Principal Officer at the U.S. Consulate in Frankfurt, and Dr. Ute Bechdolf, the Director of the German American Institute. They spoke mostly in German, so I didn't know exactly what they were saying. I did listen intently, though, in case my name was mentioned….
After the Speakers we were then treated to a classical performance by the Los Angeles Youth Guitar Orchestra!  They're young, super-talented musicians and it was an honor to hear them play! Google them for more information, or visit their website at http://laygoguitar.weebly.com/about-us.html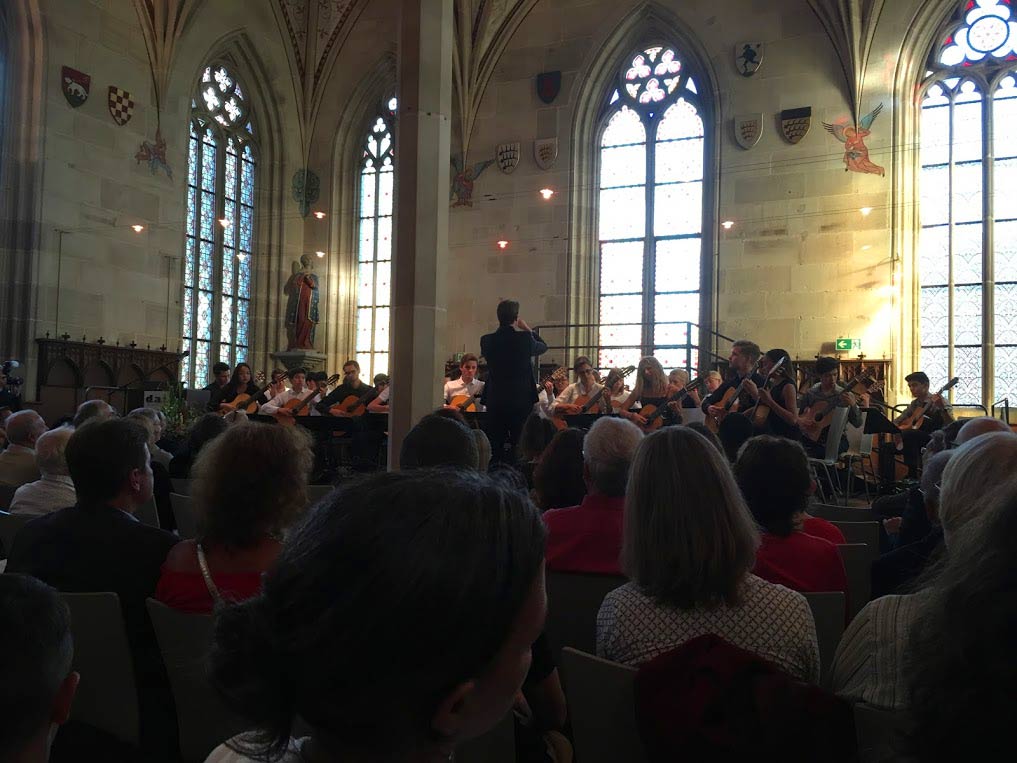 After the performance by the Los Angeles Youth Guitar Orchestra, the people ventured into the courtyard to socialize and enjoy the cool night air: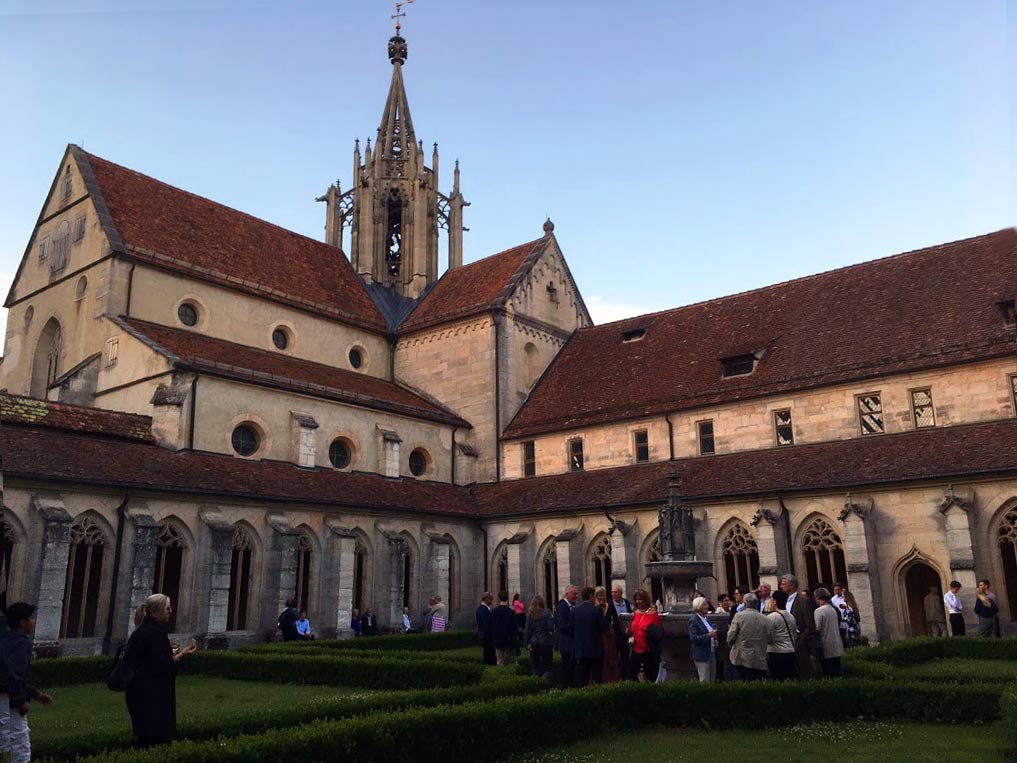 Well….most people were enjoying the cool night air…..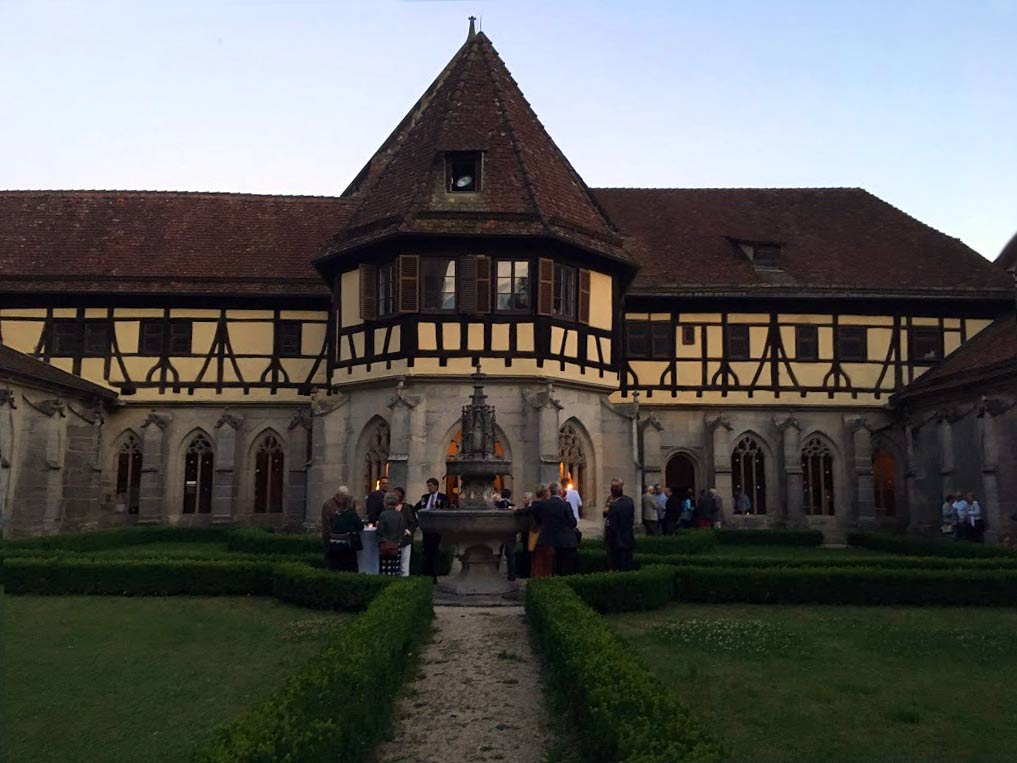 Like the people with jackets!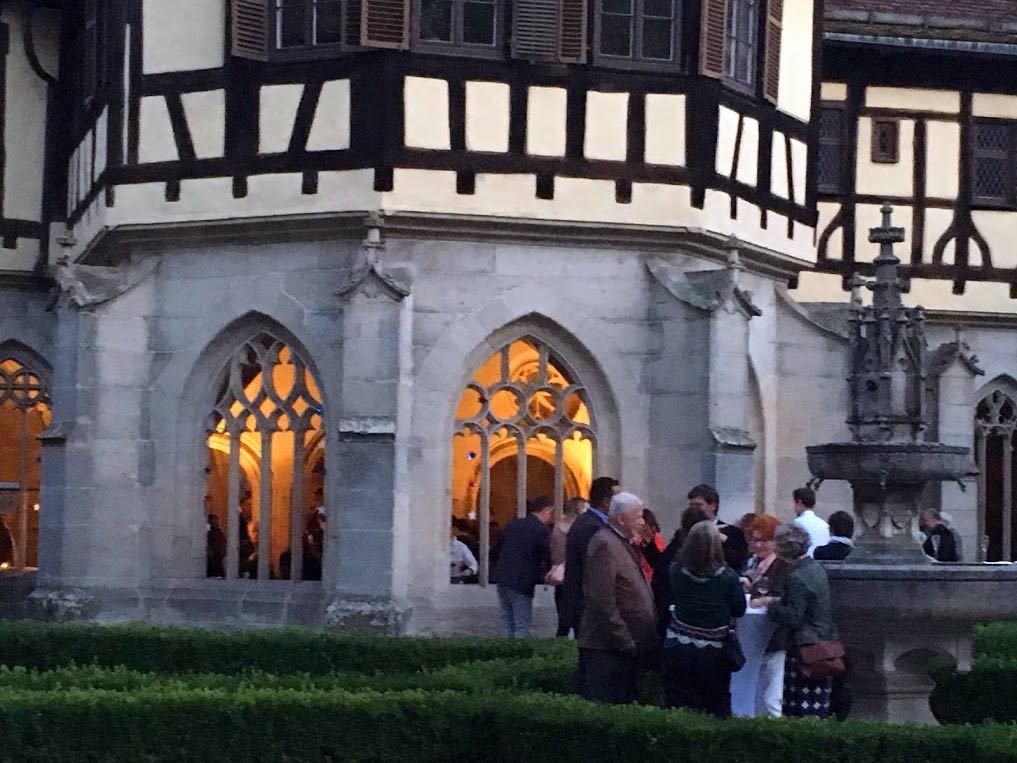 I love the windows and the stonework at the Cloister of Bebenhausen! I don't know if other people notice or appreciate this sort of thing, but every tiny detail here is a work of art! And as an Artist, I want to see everything!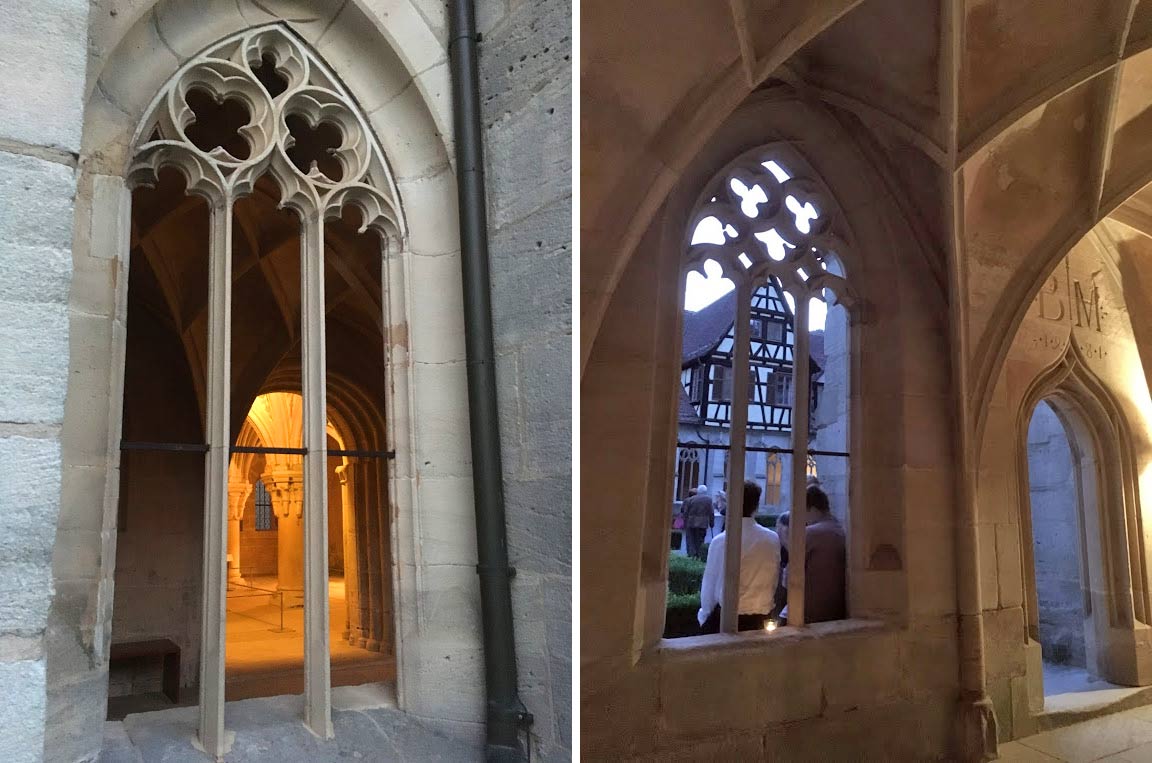 Columns, arches, and hand-painted designs on the ceiling!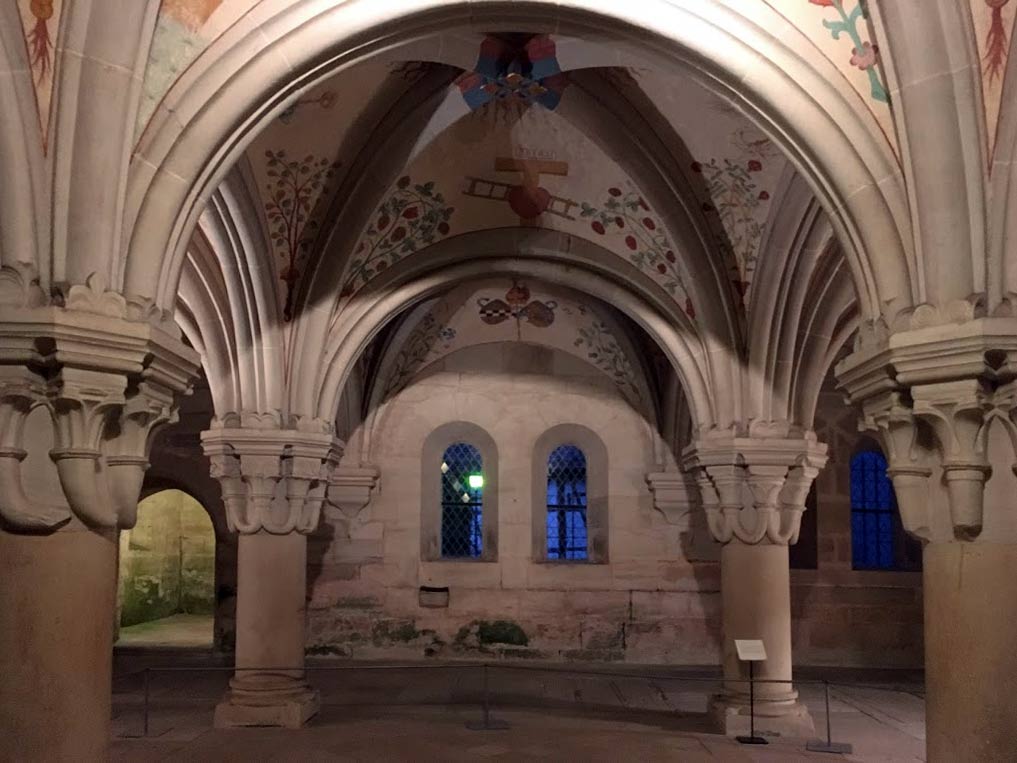 I love the way the moonlight shines through the medieval windows and illuminates their shape on the opposite wall! I can't help but thinking about all the monks who walked in this hallway over so many centuries and saw the moonlight the same way that I'm seeing it now!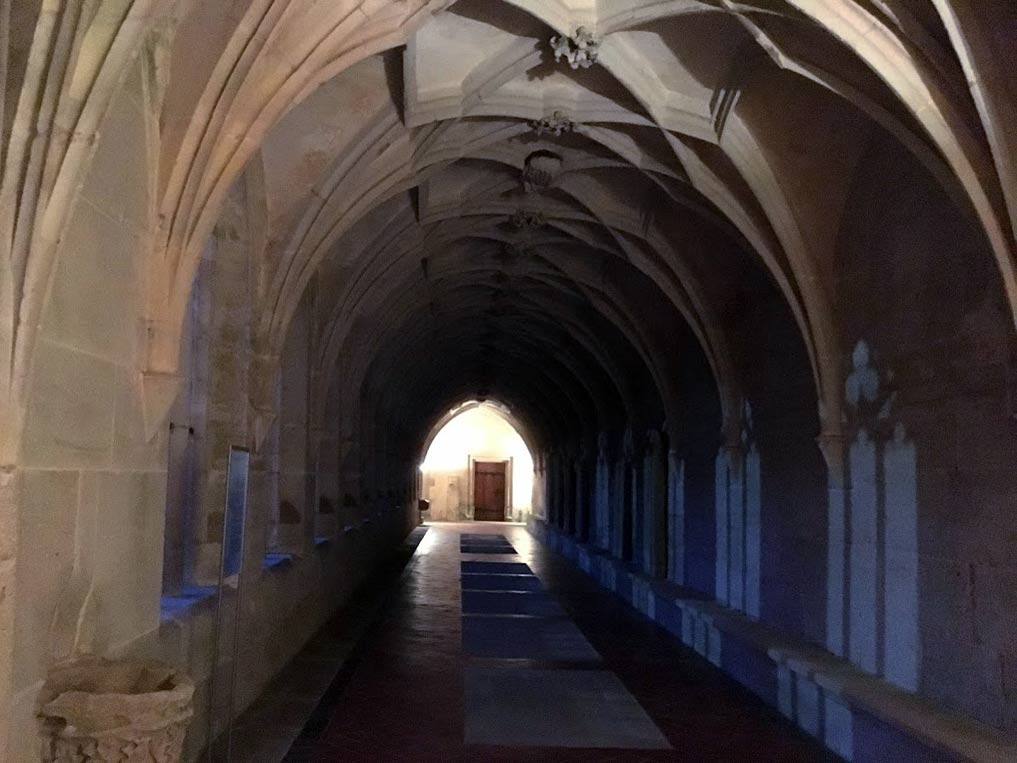 While I'm honored that they engraved my initials above the door, my last name begins with a T, and not an M. What? It means Bebenhausen Monastery?? Oh….well….nevermind.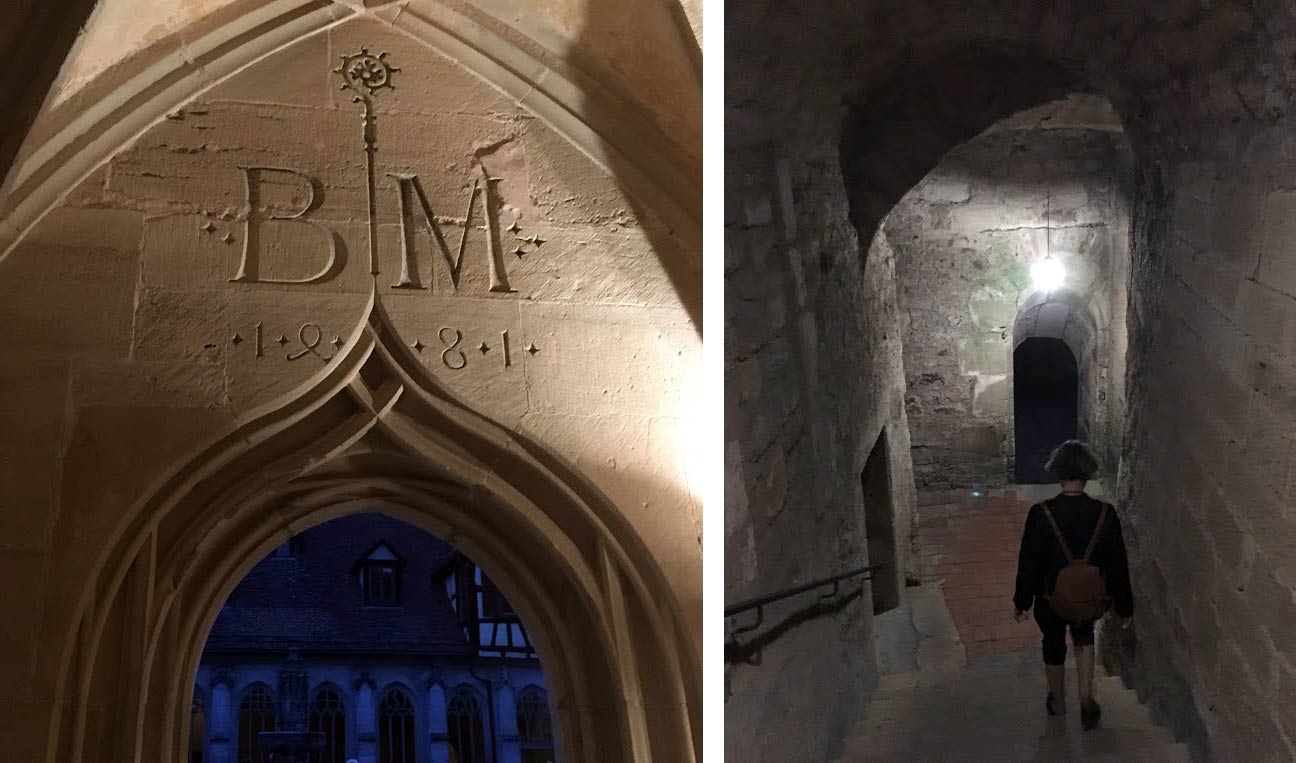 After the Sommerempfang, Gudrun and I took a bus to Tübingen center and had dinner, then we went back to her house. I had the opportunity to see some of her artwork up close and in person, which was amazing (!) and it was also quite fascinating to see the progression or evolution of the artwork over time. To see a selection of her beautiful paintings, visit her website at  http://www.g-v-funck.de/index.html
Gudrun and I were both exhausted from the festivities! She showed me to the guest room, which was lovely! It had the most comfortable bed king-size bed, and I slept like I haven't slept in a very long time! I even slept later than I expected, which I did not wish to do because Gudrun is an early riser. She assured me that it was okay, because she likes to spend her mornings with quiet time – reading the paper, and enjoying her tea.
In the morning I saw that Gurdun has a glorious garden, and it looked resplendent in the early morning light! Before long we left for Tubingen center, and on the way we went for a lovely walk through a Park, and then through this historic cemetery: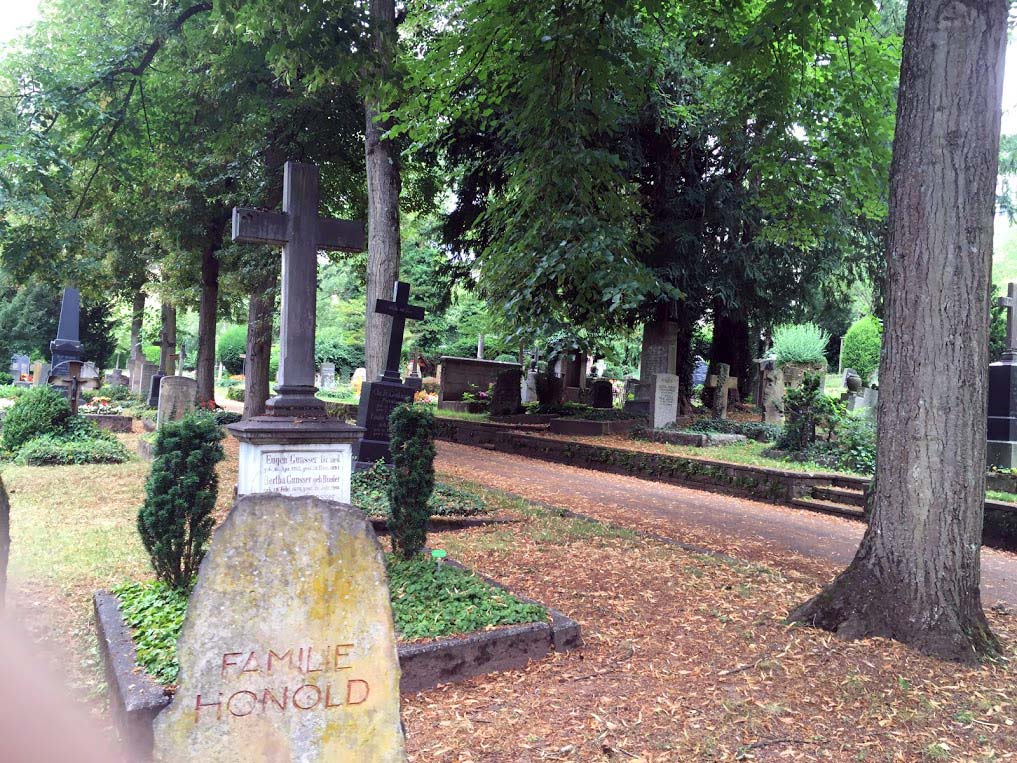 This is the final resting place for Friedrich Hölderlin. I have to admit that I had never heard of him before I came to Germany and visited Tubingen, but apparently he was a famous German poet, thinker, and philosopher in the early 1800's.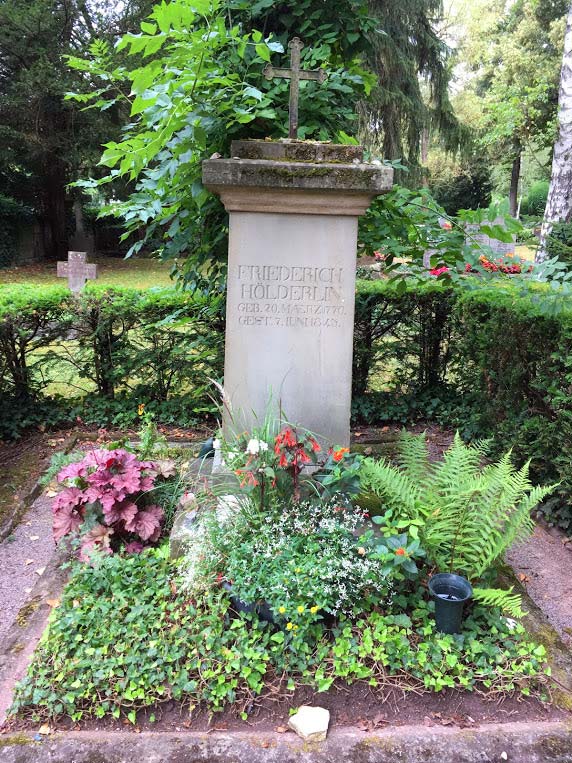 We had breakfast in the square, or the "Marketplatz", not far from the Rathaus with the astronomical clock. Then we walked a bit more and visited a Church. Gudrun is a wonderful tour guide! She wants to come visit Kunstort ELEVEN and to meet Monika and Frank… cannot wait!
Gudrun told me that she recently attended a ceremony for a sidewalk memorial in Tubingen. I was intrigued, and asked her to show me. There, below a light post adorned with flowers, I saw people looking at it: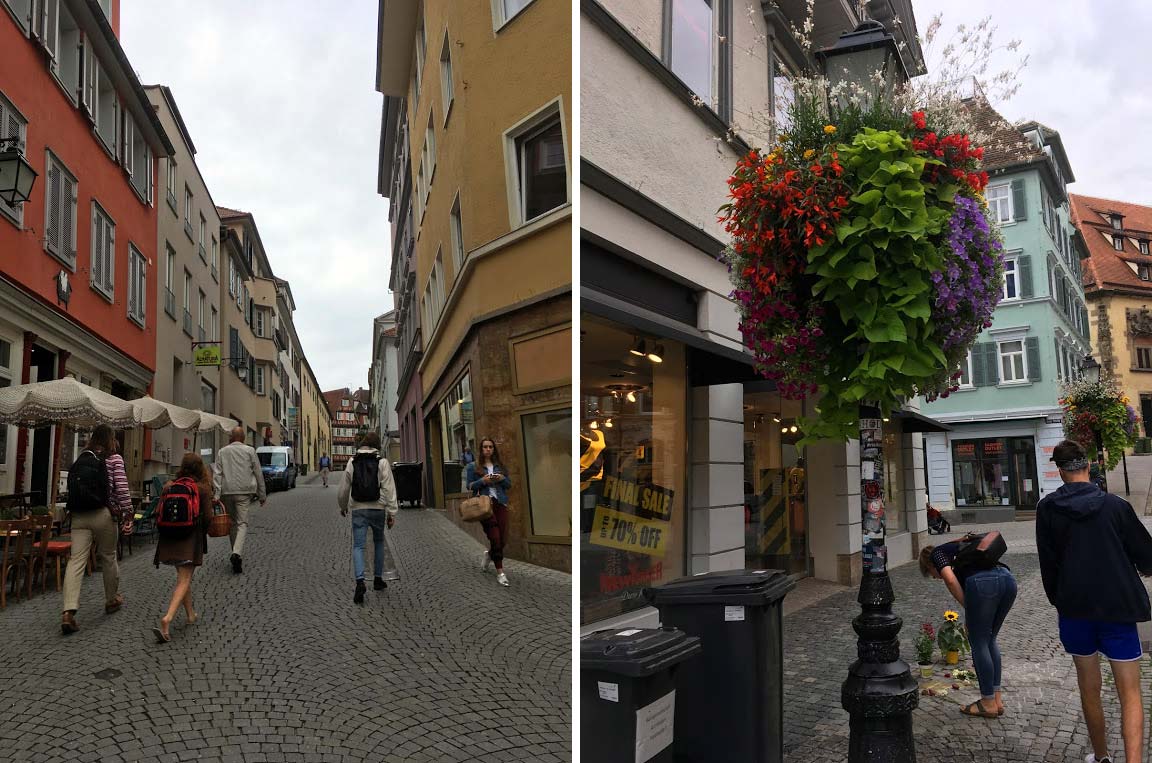 The sidewalk memorial consists of nine gold tiles. Each tile had a person's name engraved on it, and each died at the hands of the Nazis.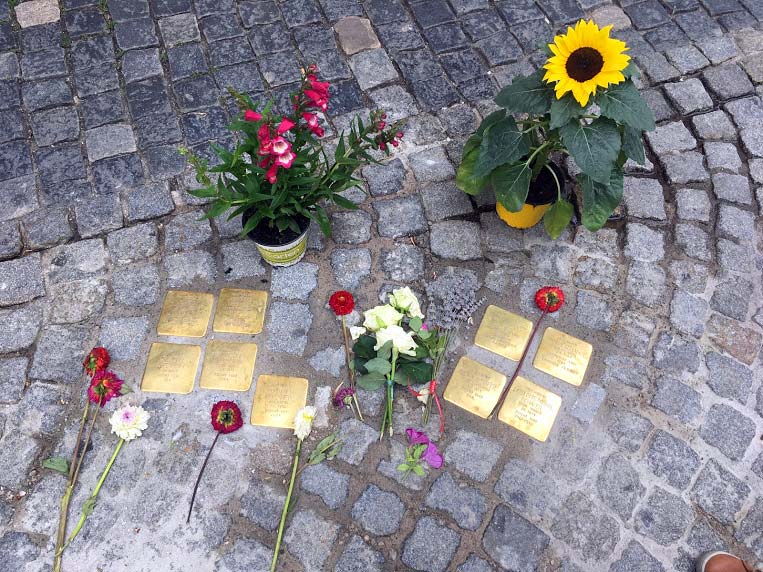 When I got back to Starzach, I saw a bus being driven by my Pakistani friend. "Heyyyyyyyyyy!" I yelled, and waved my hand as I ran after the bus. It lurched to a stop. He smiled. "I have your jacket" he said, and handed it out of the bus window. Thank you, my friend! I love happy endings!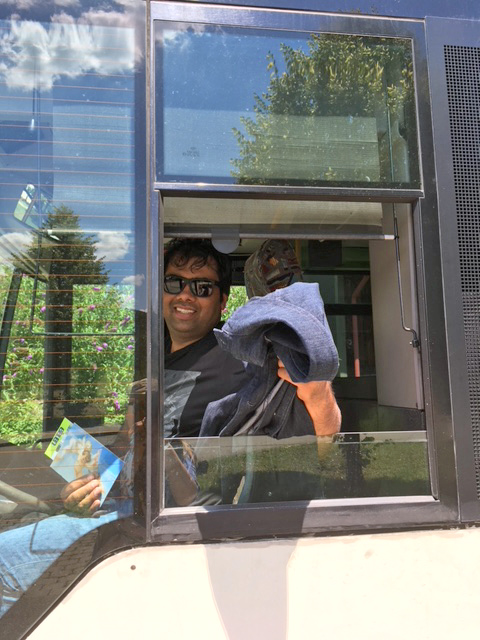 More exciting news to come!
I'll keep you posted!
Bonnie