Ahhh Tübingen! Jamie and I decided to return to Tübingen today and enjoy a lazy Sunday afternoon! The weather was beautiful – sunny and warm, just a light breeze, and the sky was a perfect shade of blue! It was good to be back! The colors and details of all of the old world architecture are a feast for the eyes!
We were going to catch a bus to Tübingen but Frank's brother offered to give us a ride. That was very kind of him and we really appreciate it!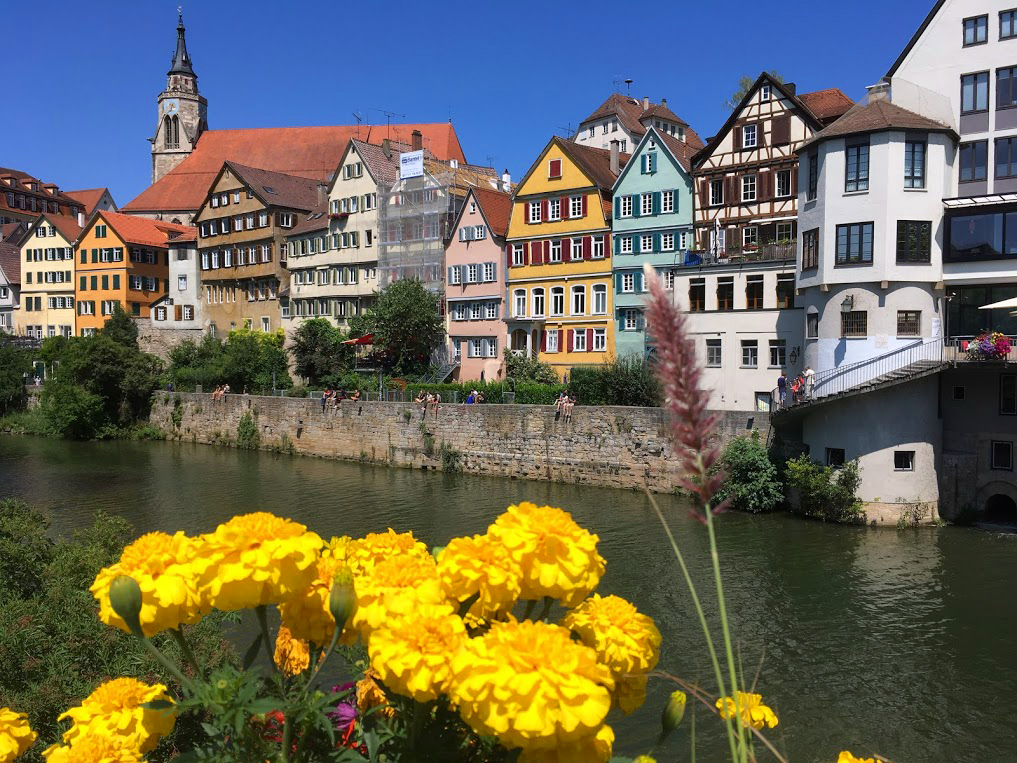 The view from the Eberhard Bridge of the colorful old world houses lining the Neckar River. I often just stare in amazement at the beauty and drink it all in for as long as I can. Sometimes, though,  I notice other things – like the kids sitting on the wall with their legs dangling over the River. That's when my inner old person rises to the surface and I have a strong desire to yell at them "HEY!! GET OFF THAT WALL!! YOU WANNA DROWN?? DON'T MAKE ME COME DOWN THERE!!!"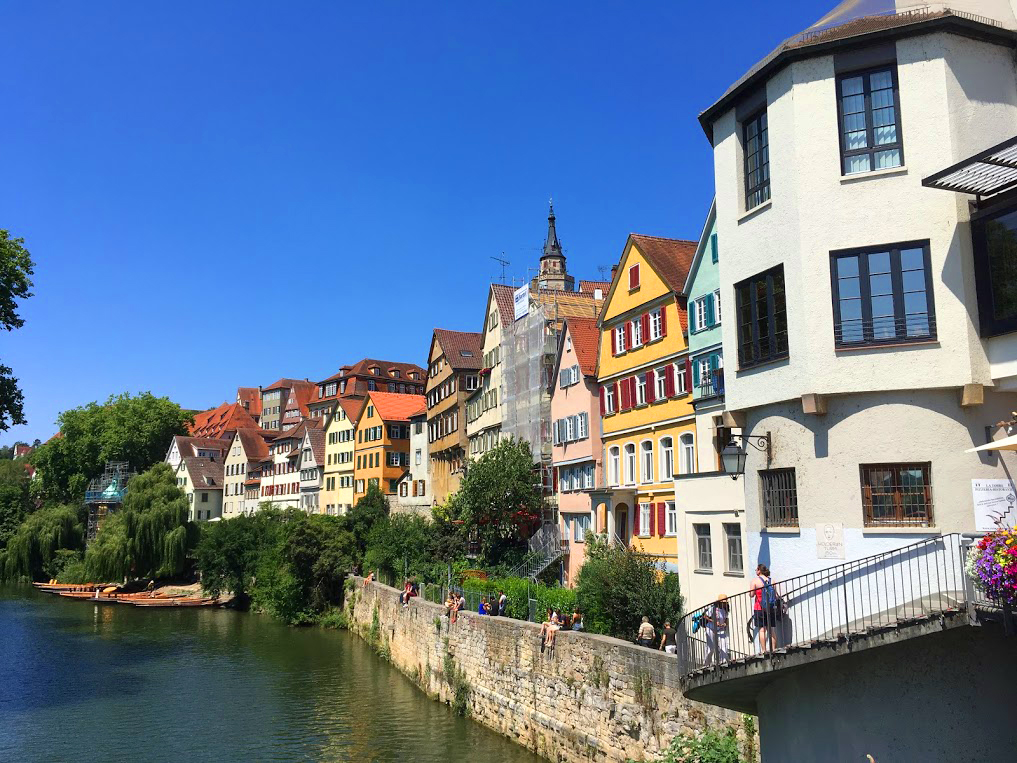 The Eberhard Bridge spans the Neckar River, and is always adorned with fresh flowers. The boats are from the Bootsvermietung, or Boat Rental place.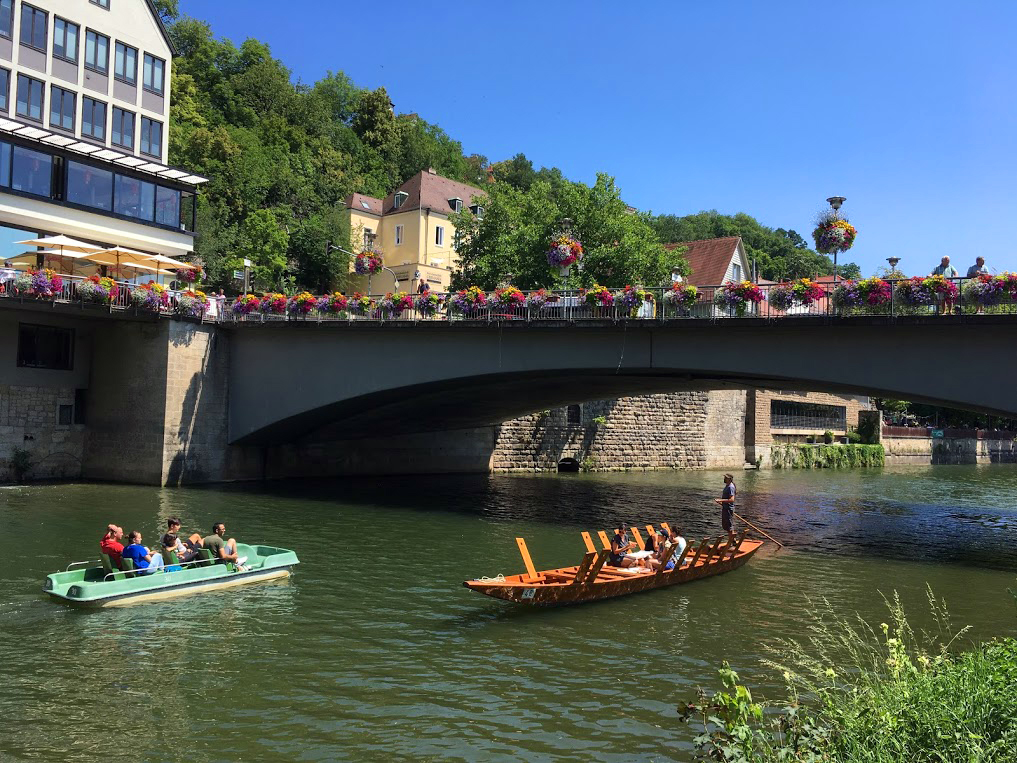 This is on the Neckarinsel – it's an island surrounded by the Neckar River. It's also a Park that's lined by very tall, very old trees. In the summer they have concerts and plays here on the Island.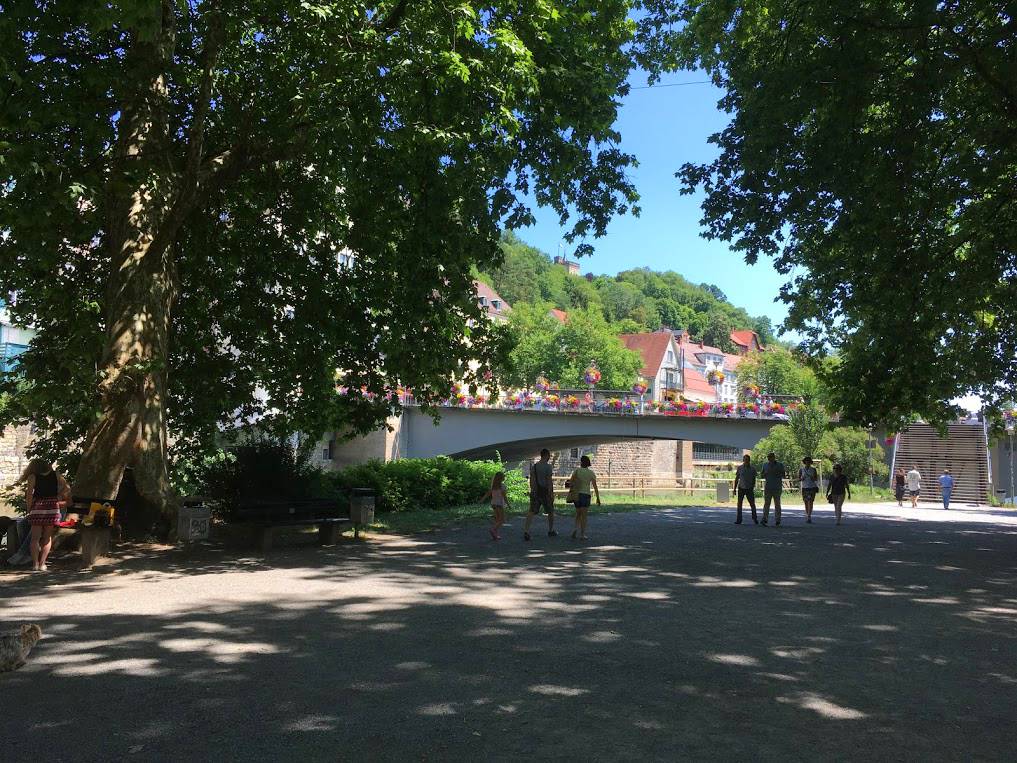 A nice shady spot on the Neckarinsel with a gorgeous view!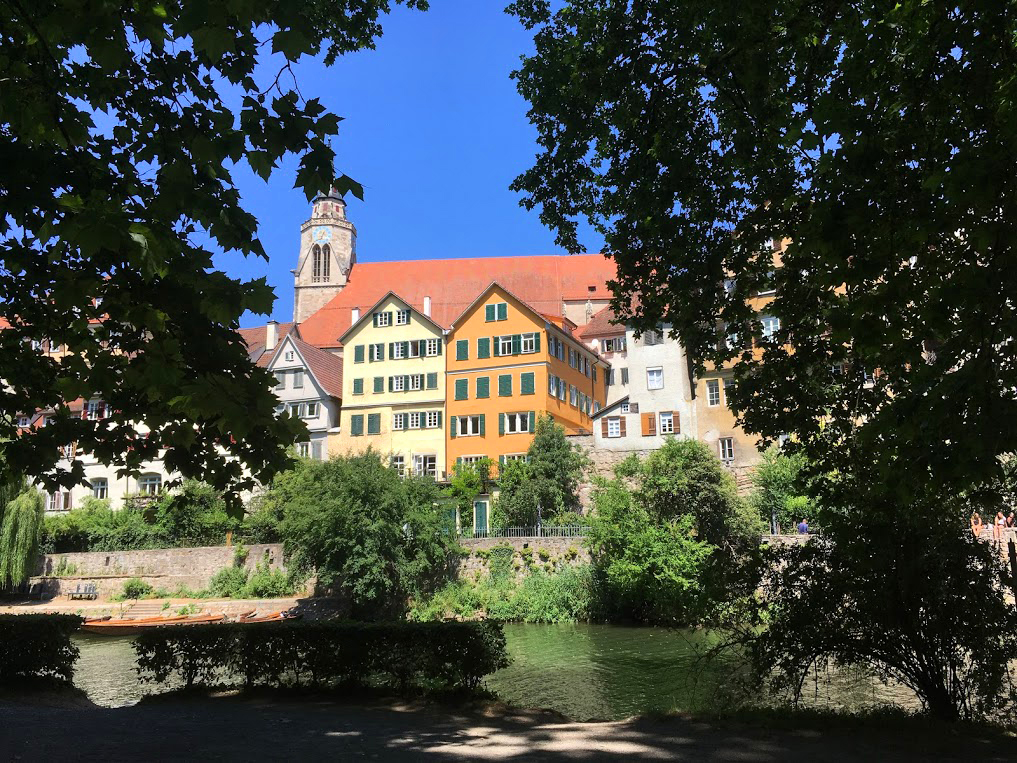 I have been loving using my iphone to take pix, but often what I am interested in is way in the distance and turns out really small. So I was complaining about this to Jamie and she said "Just use the zoom." I told her the phone doesn't have a zoom. She laughed and showed me how to use it – it's the same way you zoom in on an existing pic….with your fingers on the screen! OMG!!! You will now be seeing a lot of zoom shots!! All this time I've been without! LOL! Thank you Jamie!!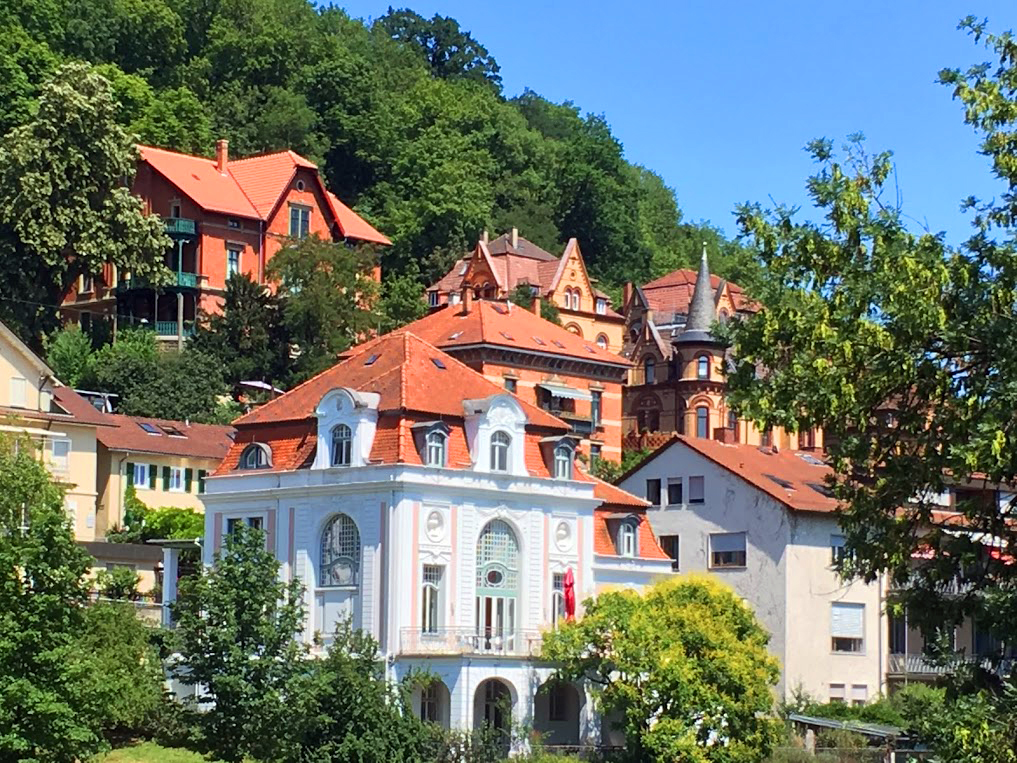 The Marktplatz, or Market Square.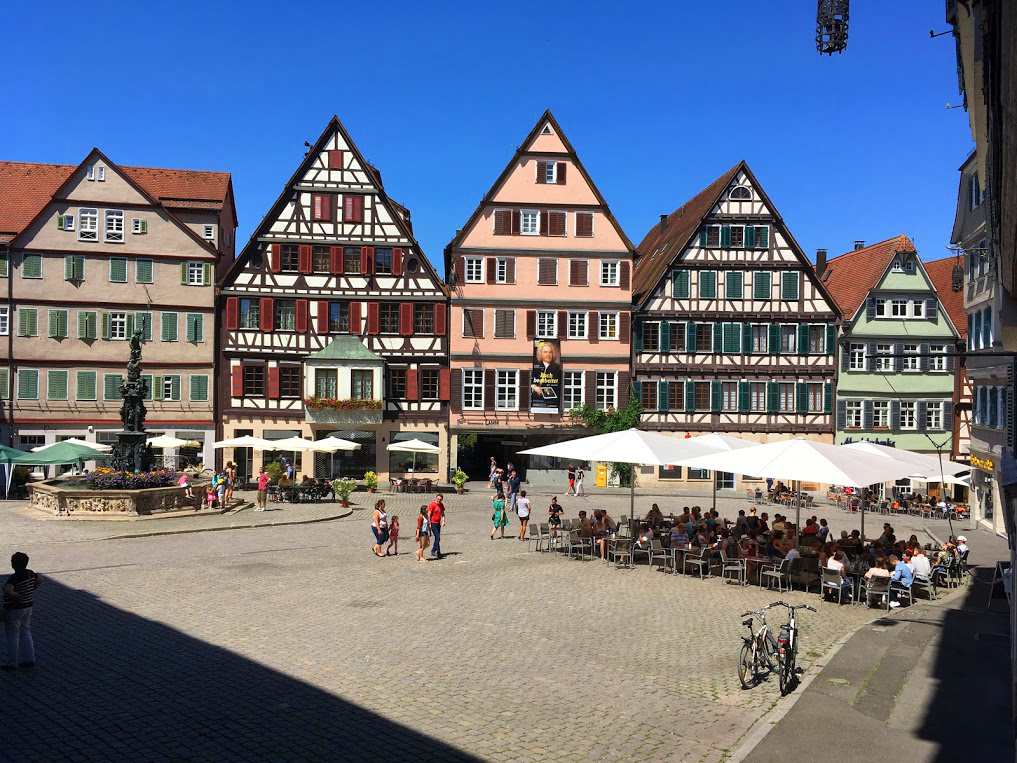 The recently restored Rathaus, or Town Hall. It's a gorgeous building with an astronomical clock at the top. The clock has special mechanisms and dials to show astronomical information, such as the relative positions of the sun and moon. I'm not sure if it does stars and planets too.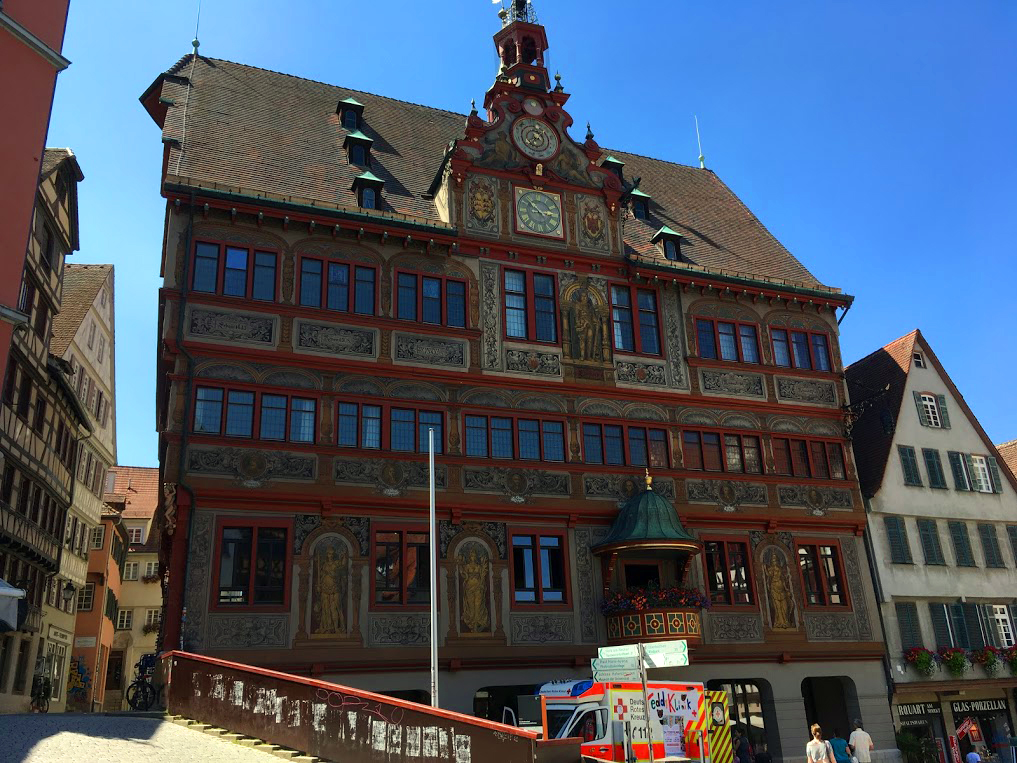 A close up of all the wonderful details on the exterior of the Rathaus. Taken with my new zoom, of course….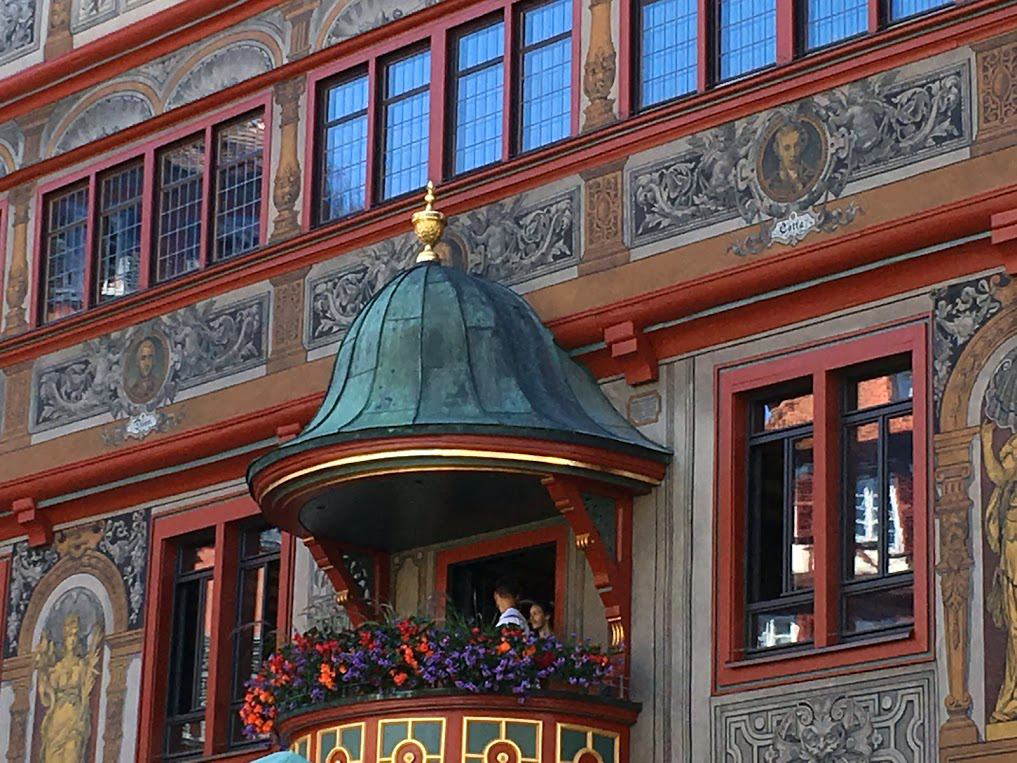 Every building here is a work of art! Just look at all the colors, lines, forms, and textures…..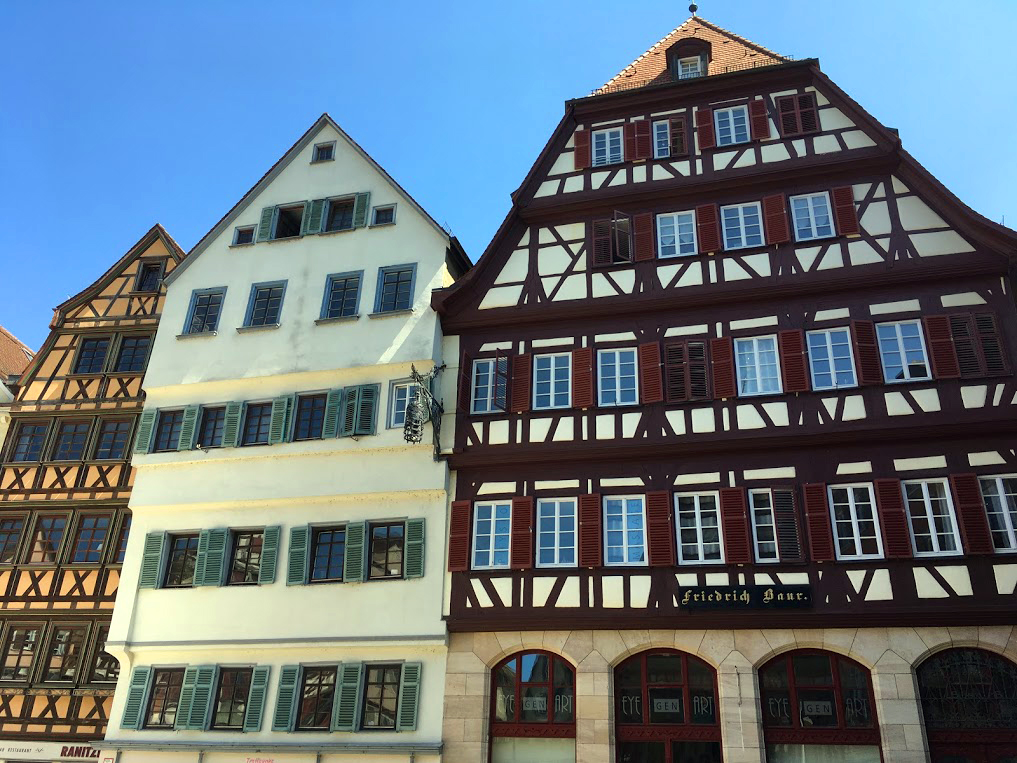 The Marktplatz is surprisingly not busy at all. I would have thought that this place would be packed on a Sunday afternoon, but it's not. I see a few tourists, but it looks like mostly locals enjoying the day. What a great place to live!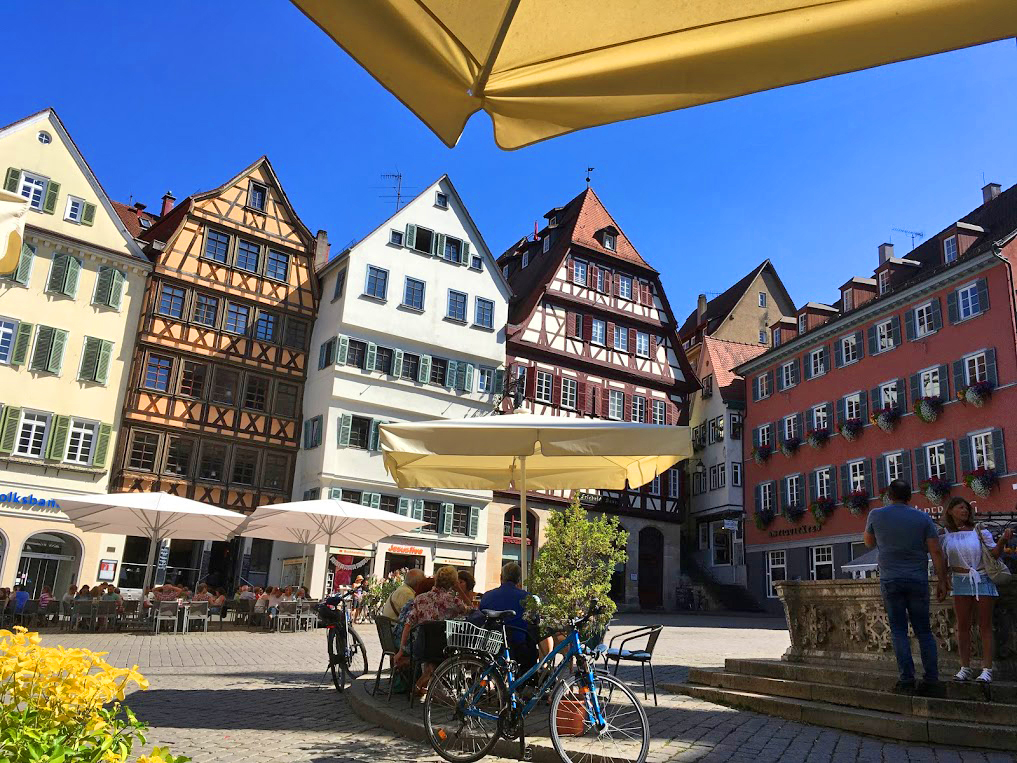 The iconic statue of Neptune and the Tübingen Town Hall made for an eye-catching backdrop. Jamie and I relaxed over coffee and savored a beautiful Sunday afternoon in Tübingen!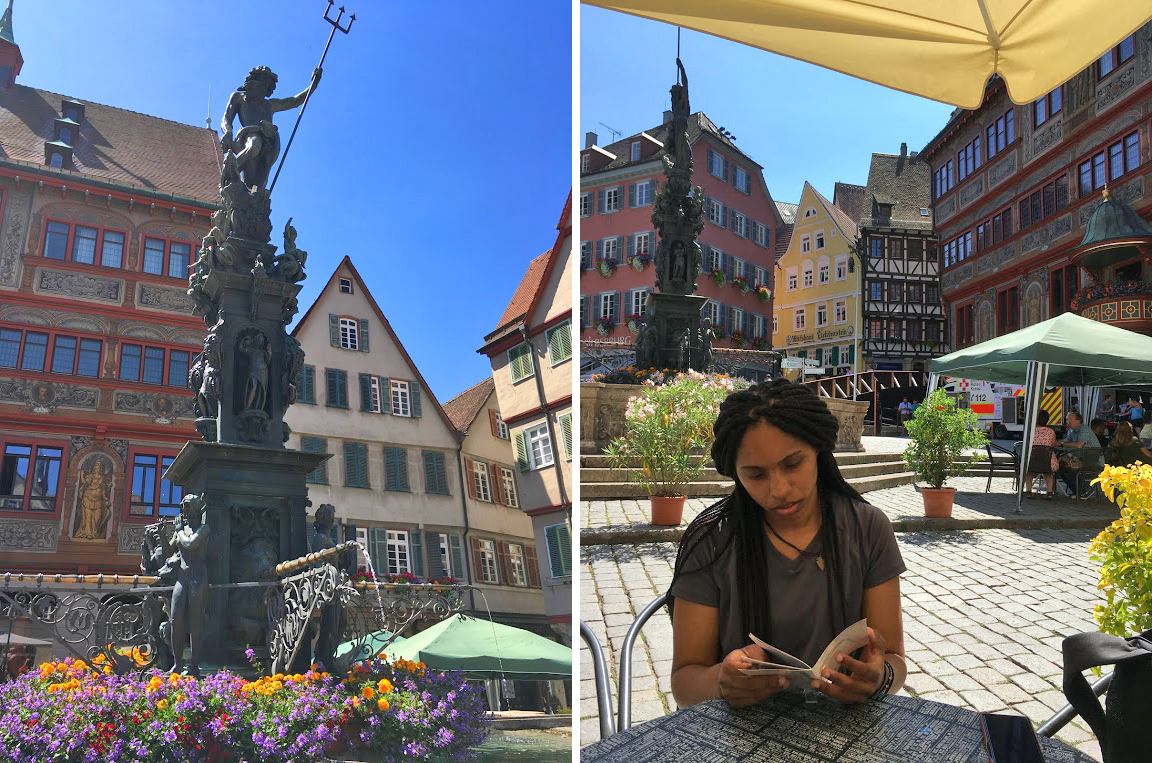 There are many exciting developments at Kunstort ELEVEN ArtSpace  #kunstortELEVENartspace  New Artists are arriving this week. My work continues on a number of different art projects. I'm planning a day trip to……well I don't want to ruin the surprise….
I'll keep you posted!
Bonnie