"What is a Wanderess? Bound by no boundaries, contained by no countries, tamed by no time, she is the force of nature's course." – Roman Payne
Tuesday, August 14th:  I slept well last night and woke up early. I left the Hotel at 9:00am, and there was barely a soul on the streets. I went and had coffee and connected to WiFi for a bit. By 9:30 I was on the move, and found myself back at the Place Kleber, the central square of Strasbourg.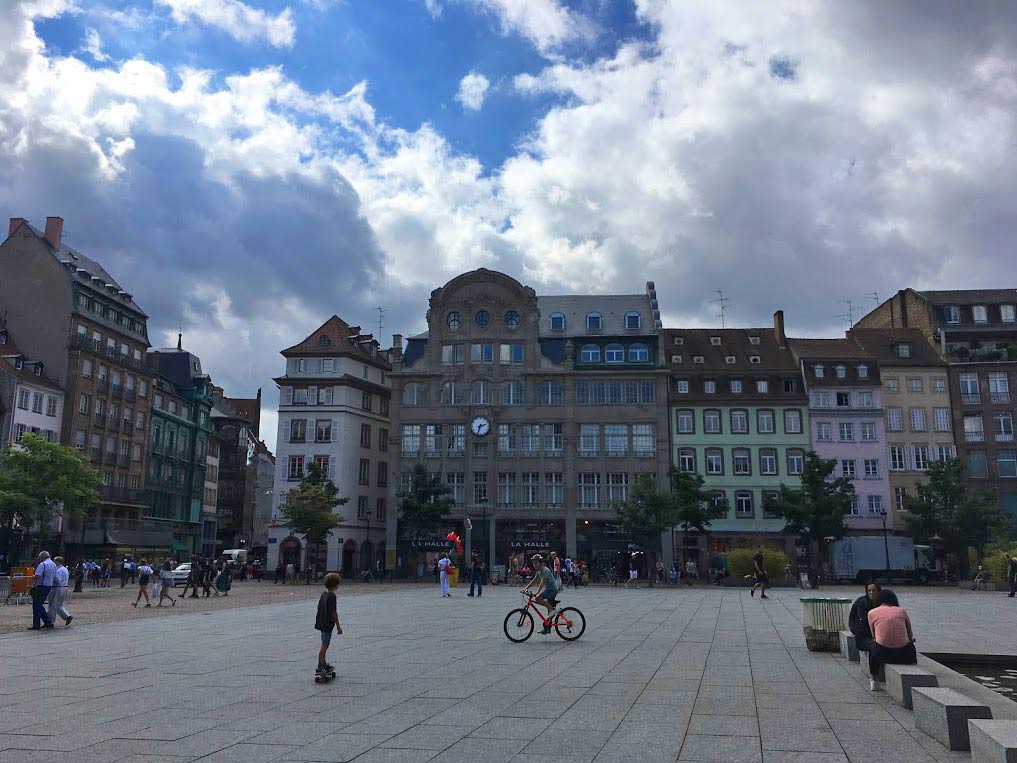 The sky was overcast, and a thick blanket of gray clouds hung low over the City. It was quiet, with only the sound of the water splashing in the fountain. Little by little, people began filtering in to the Square. The late risers had risen!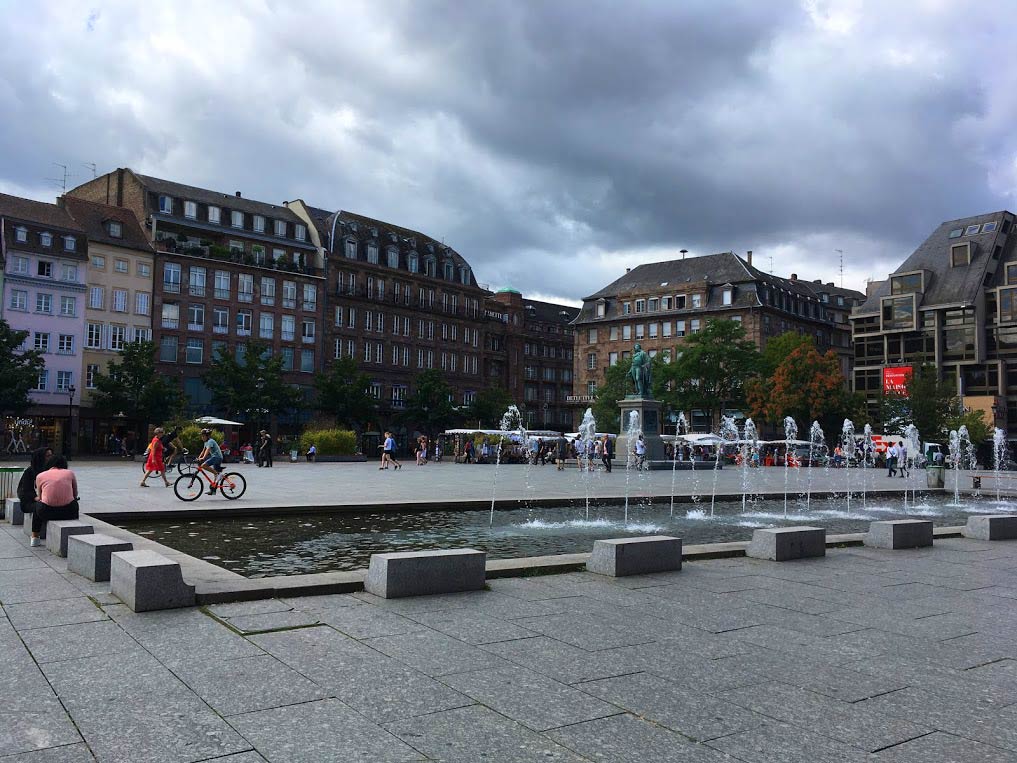 My first stop today was the Fine Arts Museum, but they were closed. I couldn't believe it! So I banged on this gigantic 20′ foot door. Soon a small panel on it slid to the side and I could see a portion of someone's face. "Yesssssssss" said a mustachioed mouth. And suddenly I realized that I was in the scene from the Wizard of Oz, the part where Dorothy asks to see the Wizard and is told that no one sees the Wizard. The man behind the door told me the Museum was closed. "No one can see the Muzzeammm because the Muzzeammm is clozed!" Yeah, yeah, okay, got it! Since I wasn't wearing ruby slippers, I wasn't getting in. I looked up. The statue up above seemed to be shrugging his shoulders, as if to say "Whaddayagonnado?". Must be made of Italian marble….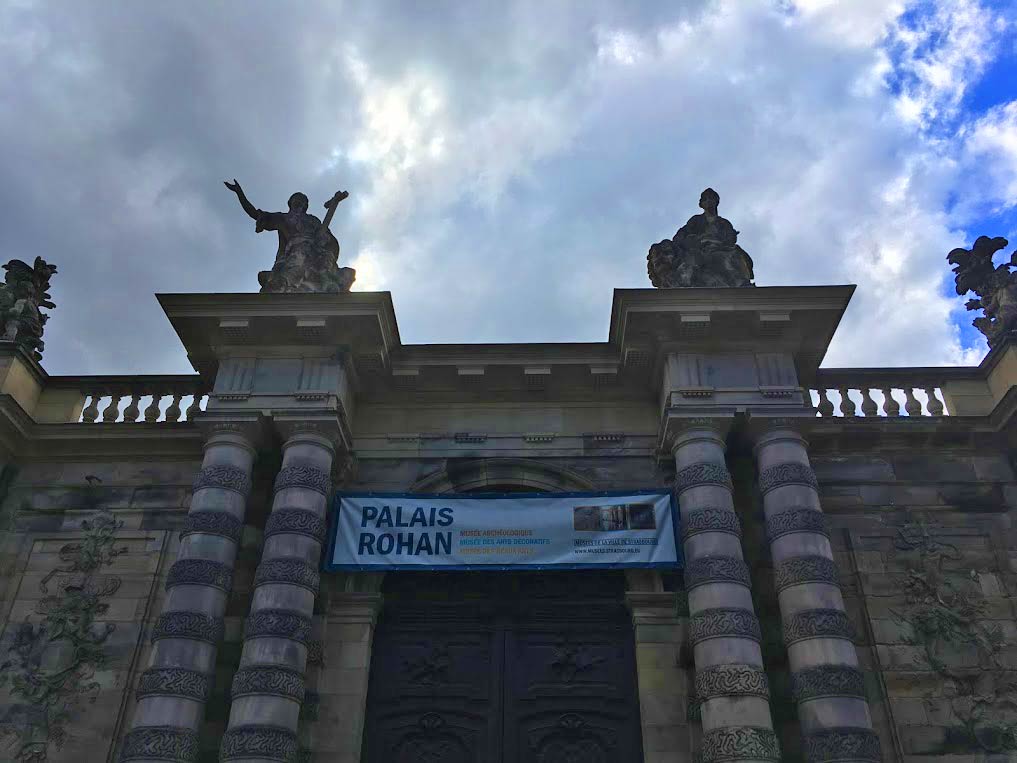 My disappointment at the Museum being closed was tempered by the fact that I was surrounded by beauty everywhere I looked!
Then, with great drama but silent celestial fanfare, the cloud cover broke, leaving a rich blue sky in its wake! Woo-Hoo!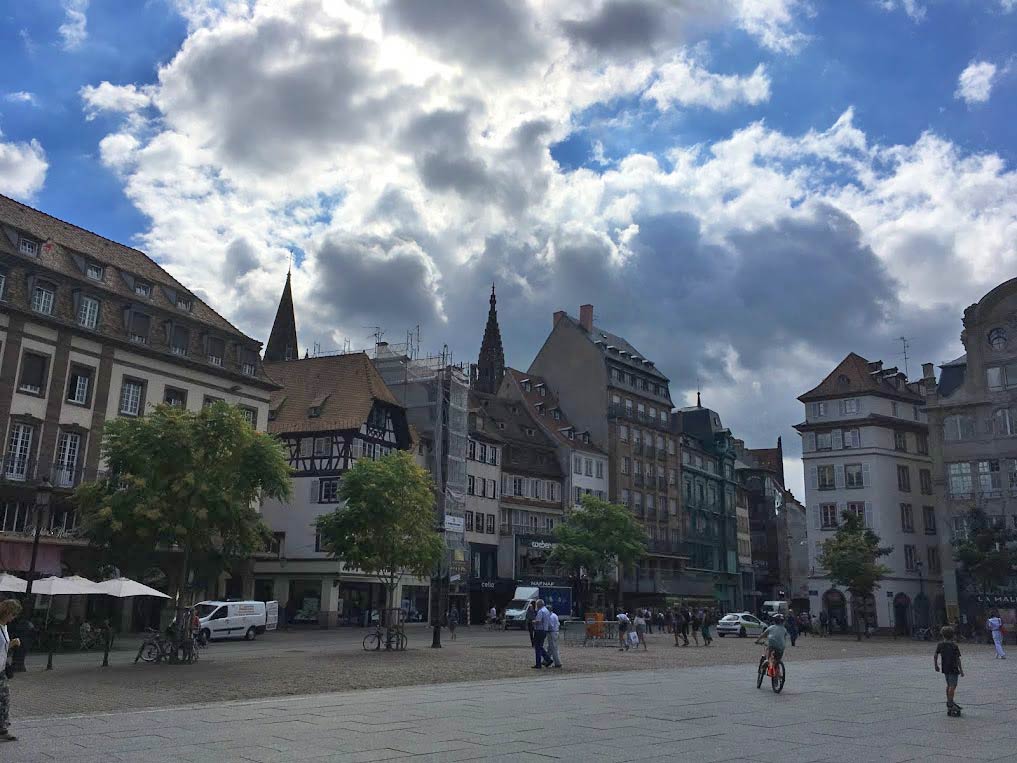 By late morning the sky turned a brilliant blue, and the sun shone bright and strong. It lit up the statue of Jean-Baptiste Kléber, and cast shadows of buildings on buildings. The City took on a much more cheerful aspect!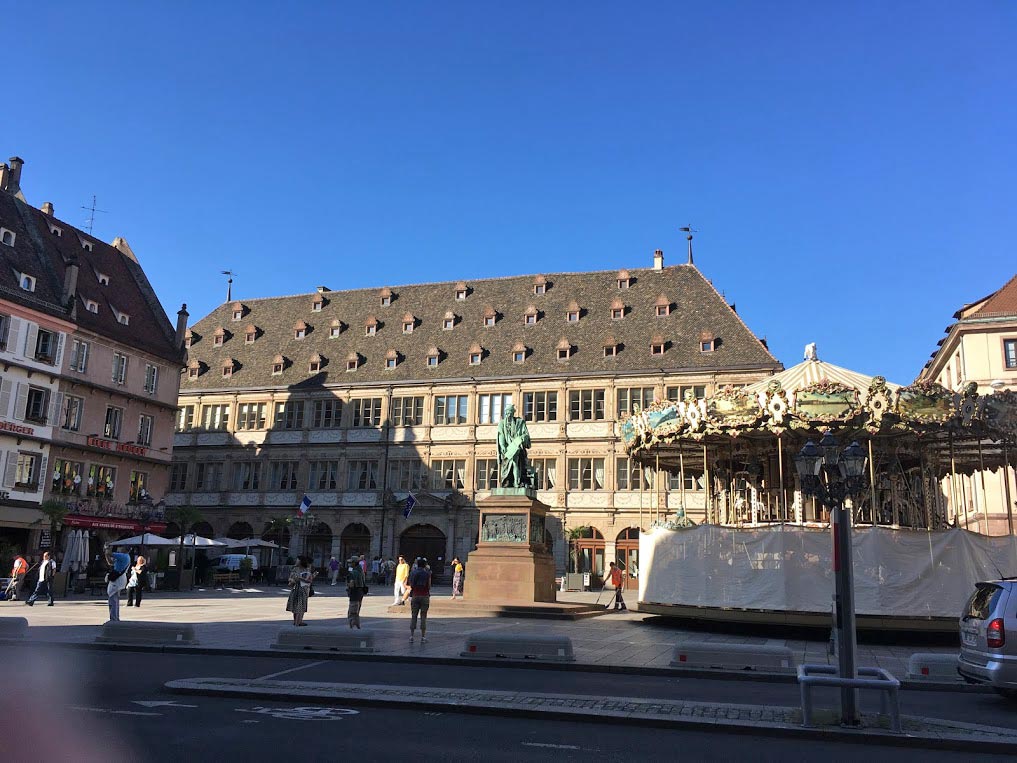 The Cathédrale Notre-Dame towers over the City! My Hotel is right below it, so I use the Church as a compass point to guide me home whenever I'm lost. The metaphor is noted, although not intended.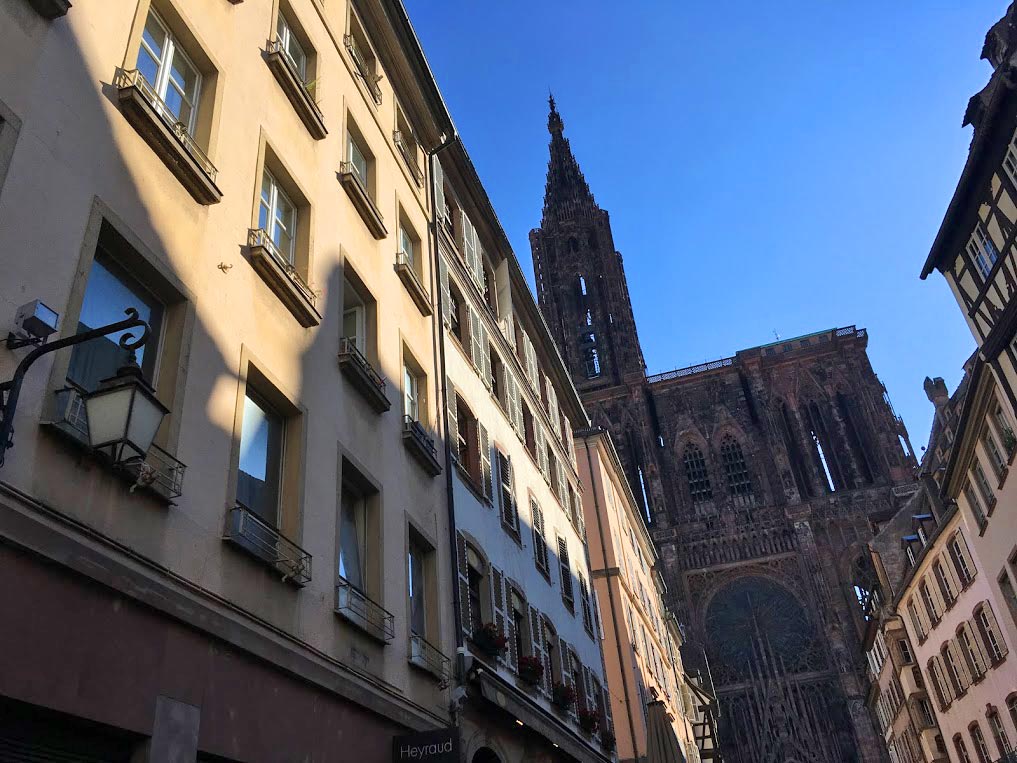 By the way: this is my Hotel – the Hotel Des Arts. Isn't that an apropos name! It's at 10 Pl du Marche aux Cochons de Lait, which is literally right below the Cathedral, and right next to several big Art Museums! This place was PERFECT for me! That's my room on the third floor – the window on the left.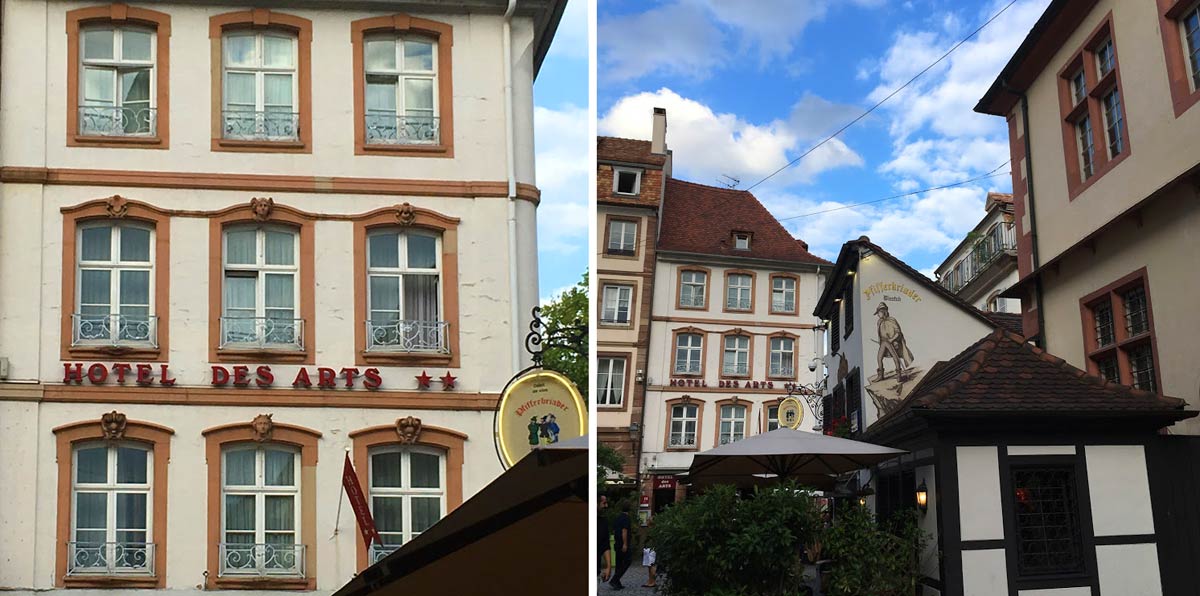 Many of the streets remained fairly deserted well into late morning. I think Strasbourgians are my kind of people!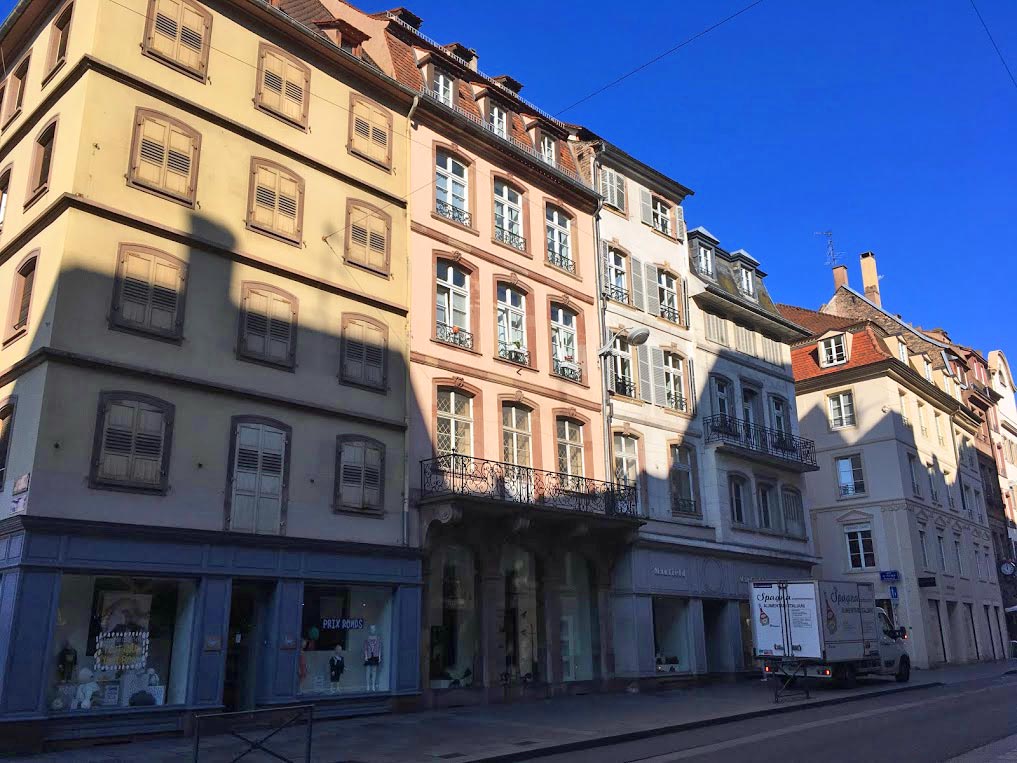 This incredible statue sits atop a nondescript store on a nondescript street. Undoubtedly it is a genuine work of art…..so what is it doing there? To quote Indiana Jones "It belongs….in a Museum!!!"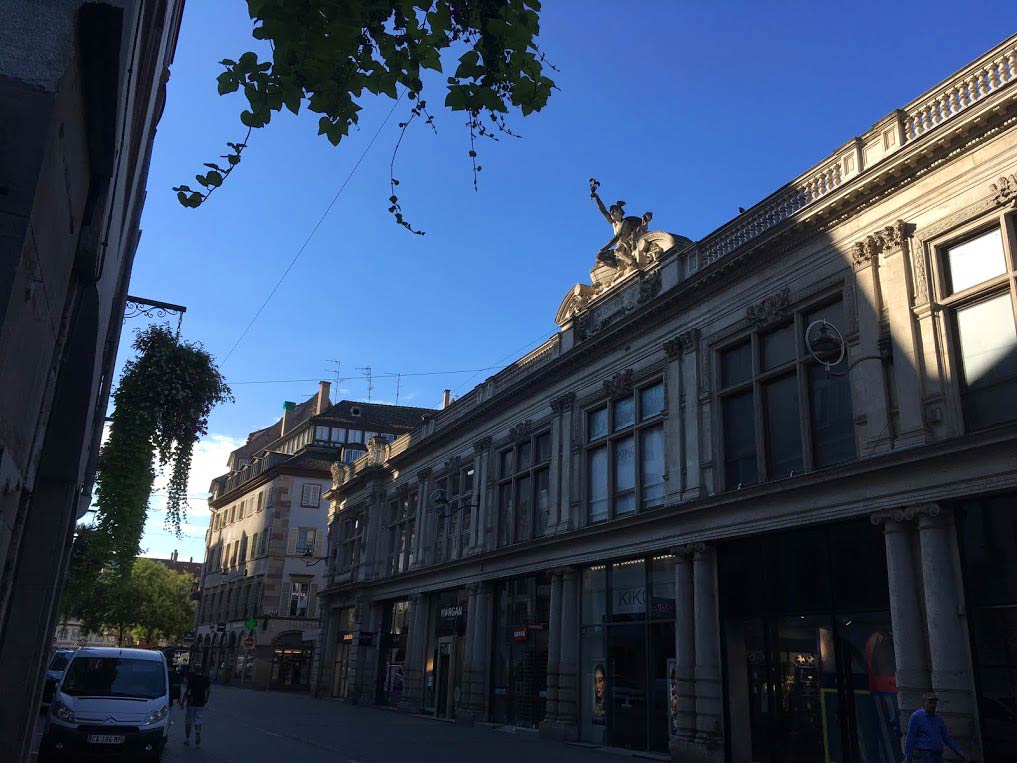 Strasbourg, like much of Germany, has a wealth of tiny details – one just has to look closely!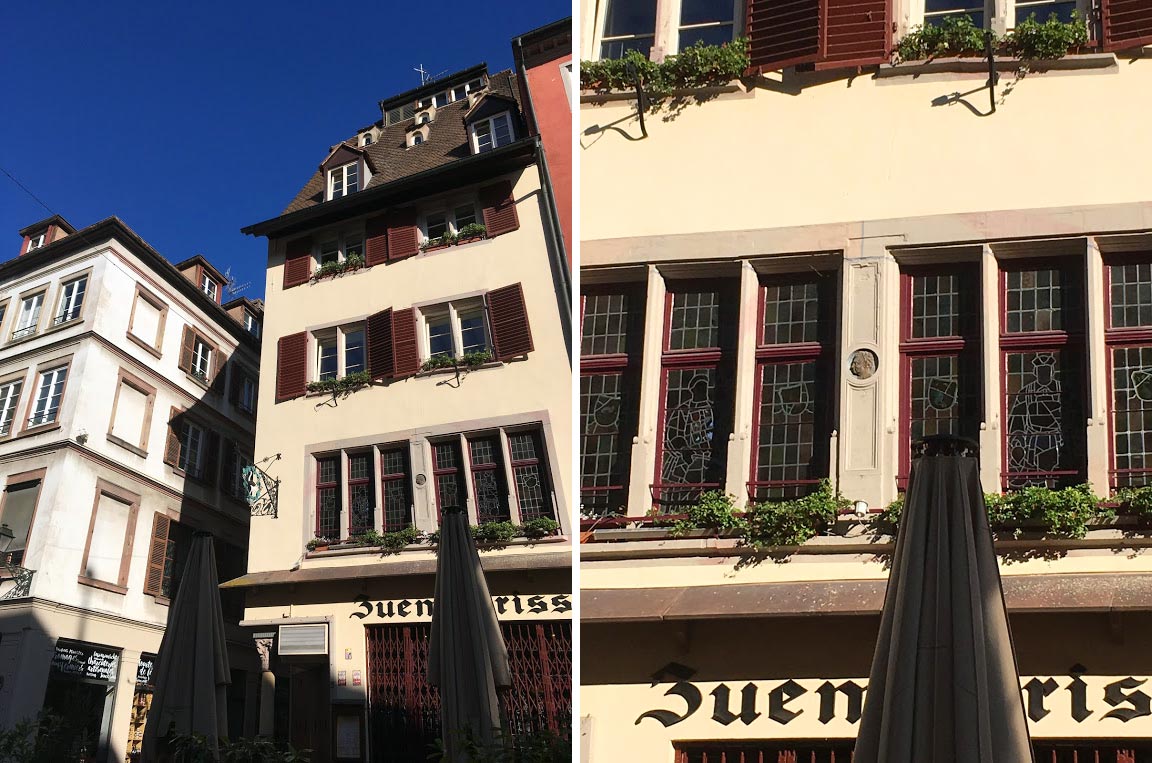 I walked around Strasbourg for a bit, and admired every tiny detail. It's truly a lovely City!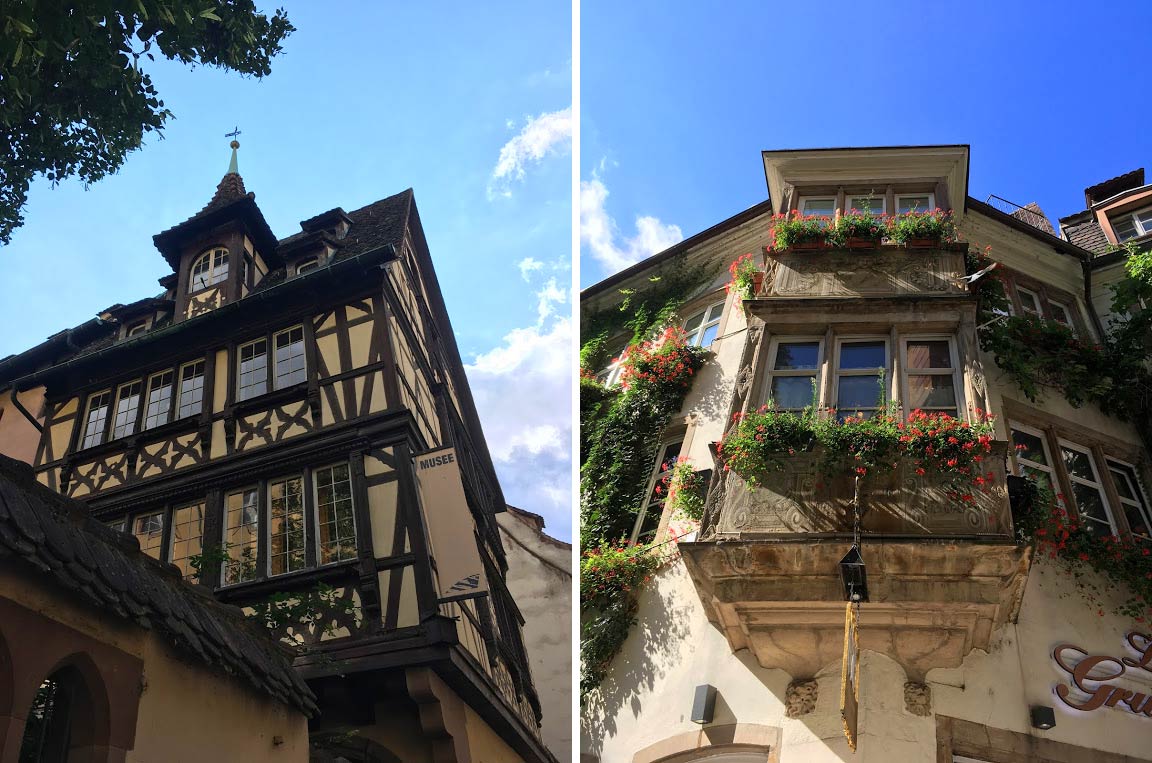 Just look at the sunlit ivy and blue skies….glorious!
Since the Museums were closed, I made my way back to the Cathedral.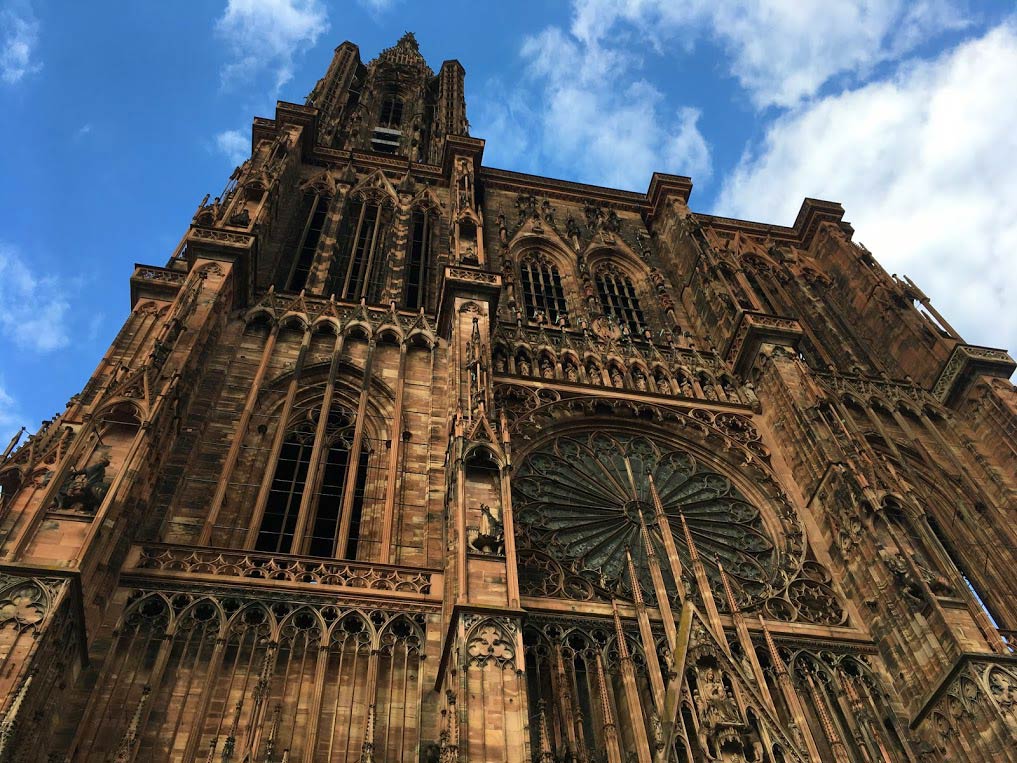 The Notre Dame Cathedral is about 1000 years old, and took hundreds of years to build! If anything qualifies as a work of art, it's this! Maybe I should check it out! Admission is free, but there's a line – a lonnnnnnnnnnnnnnng line!!! That's okay…..I'm plucky!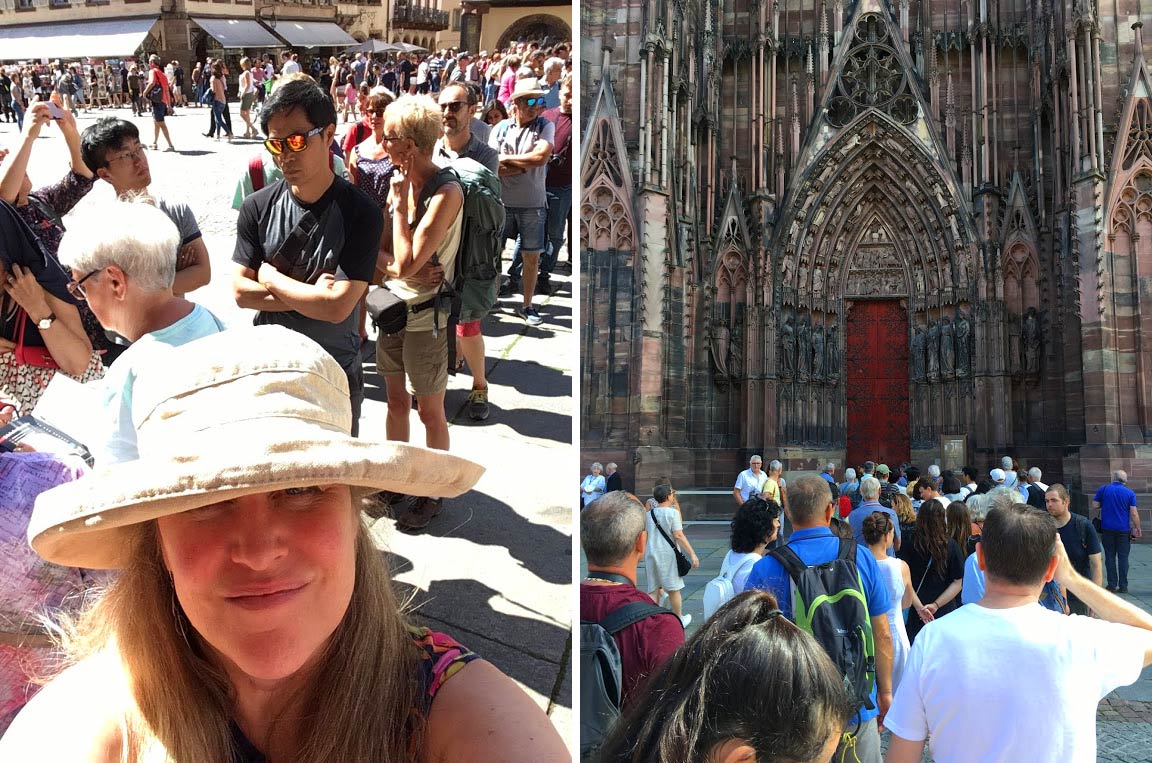 It took forever but eventually the door opened, and I FINALLY got inside! It was….amazing! I took a zillion pictures but I'm not even going to post them now. It'll take too long! I'll save them for a separate Post later!
After my visit to the Cathedral, I continued walking around Strasbourg. I paused for a moment to look back and marvel at the beauty of this ancient Church!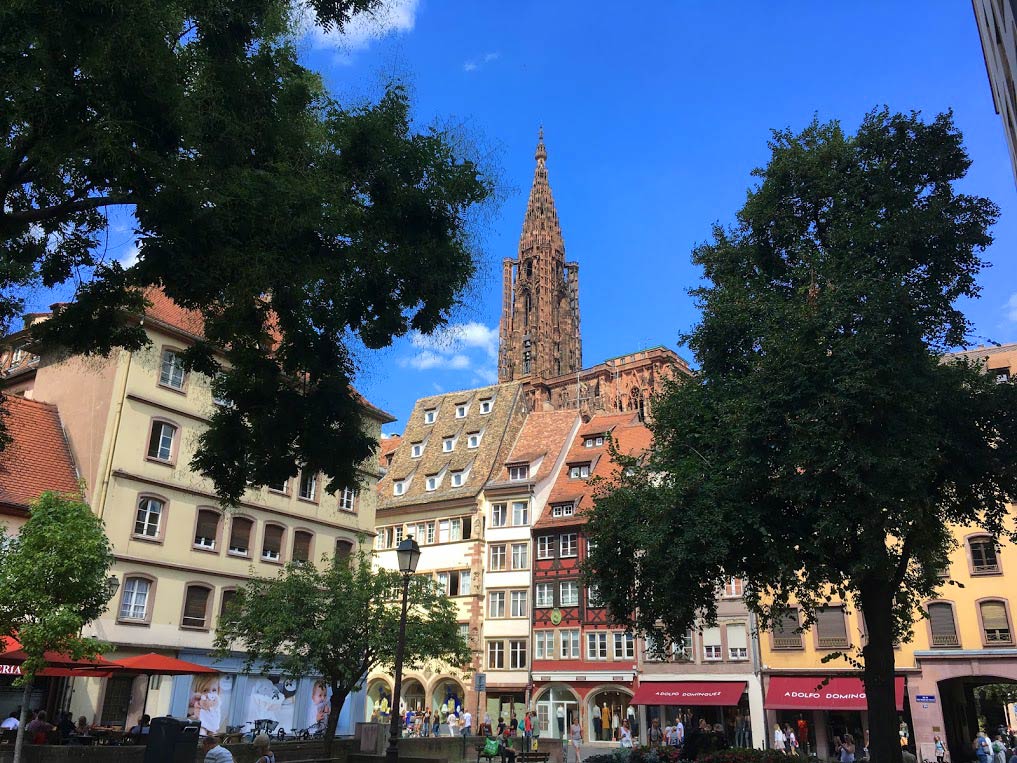 I walked over the Rhine on a bridge adorned with flowers. Beautiful!
I was walking down streets that I couldn't pronounce, with no idea where I was going. But that's the thing: I wasn't trying to get anywhere in particular – I had already reached my destination! Every new sight, every new sound, every street, every building, every view of Strasbourg….was perfect and complete!
In the afternoon I wandered into a courtyard. I wasn't sure where I was. I looked up and realized it was a Church – St. Thomas Church. I'd never heard of it, but apparently it's kind of famous. After the Reformation the Catholics had the Notre Dame Cathedral and the Protestants had St. Thomas. This Church also has some world famous Silbermann organ from 1741 inside, and the organ was played by Wolfgang Amadeus Mozart when he visited in 1778.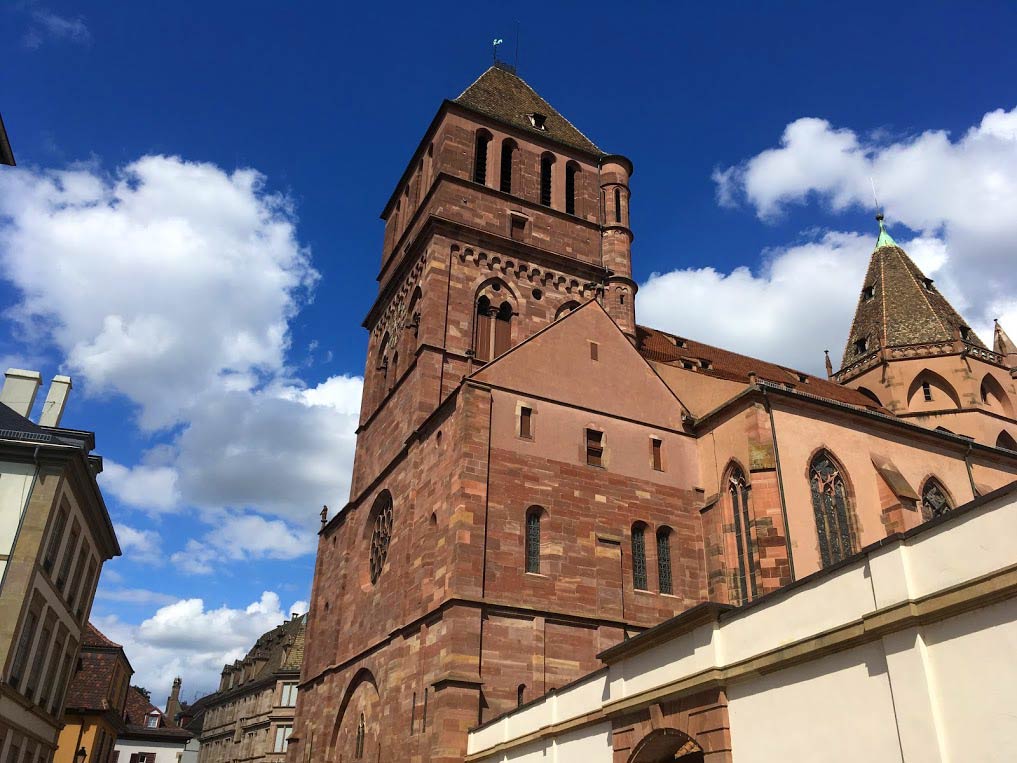 The door was open so I went in. If Mozart played here then I just had to take a look! A priest appeared and I said "I'd like to see your organ". Well…..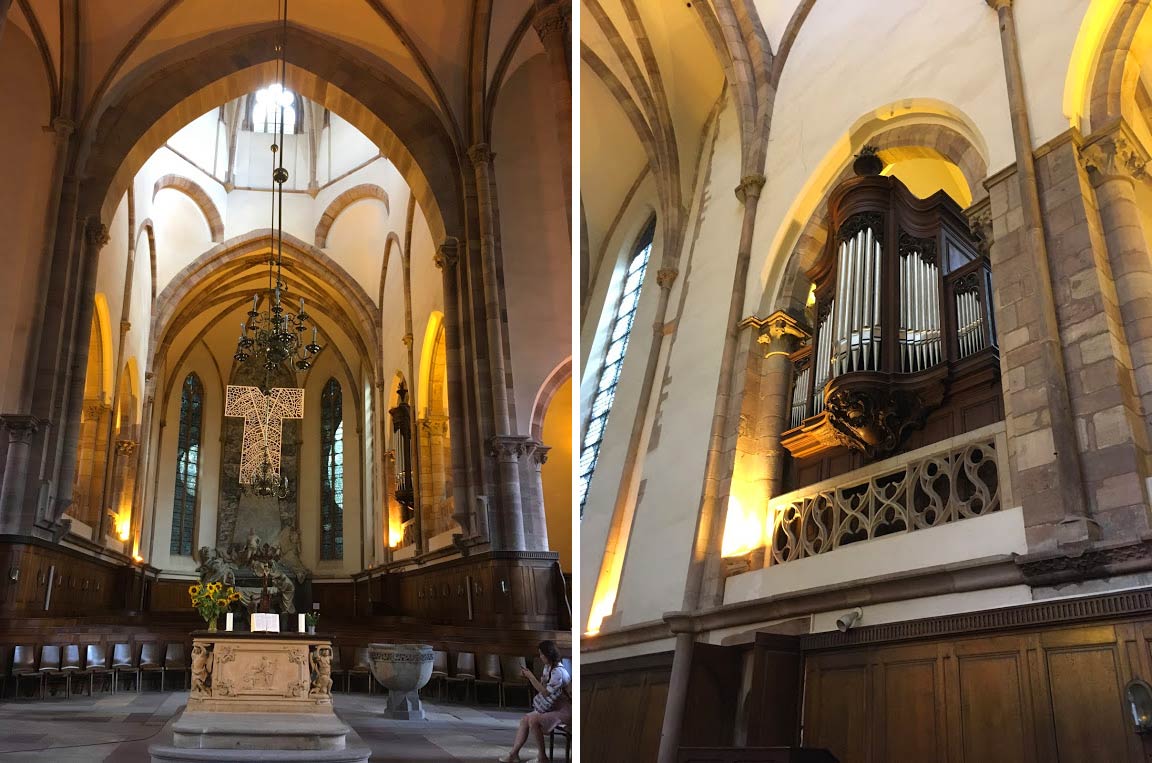 After my visit to St. Thomas I was back on my walk. I bumped into a man with a goatee, and then a little girl with a goatee. Hmmmm…..that's weird.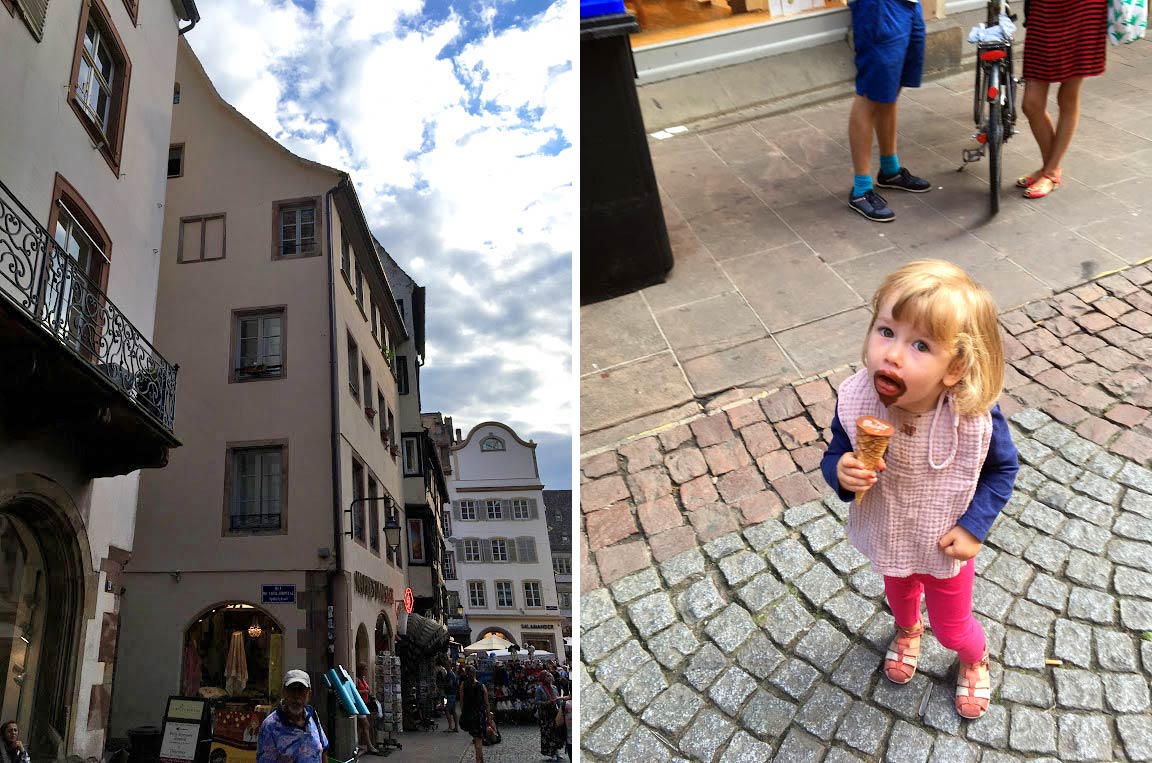 As afternoon settles into evening, people flock to the cafes, and sit at tables out on the sidewalk – many sitting and facing the passerby. This brings people-watching to a whole new level!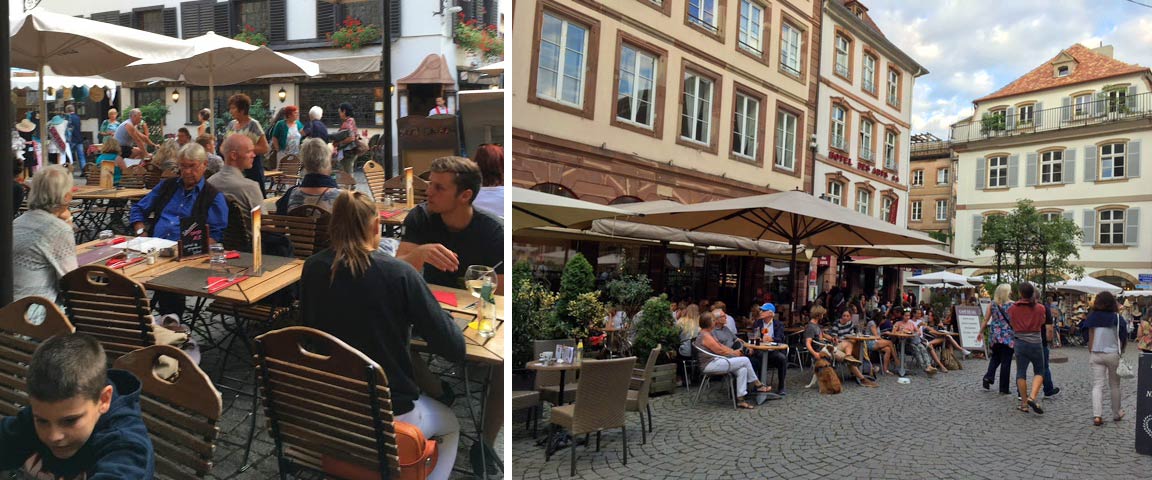 When you visit a City, you need to do more than just see the sights; you have to partake in the experience of the locals to see what everyday life is really like there. So I found a seat at at a table on the sidewalk and ordered an ice cold beer. I watched the people pass, and as the sun slipped low on the horizon, the lights of the City began to come on one by one. It was a wonderful day!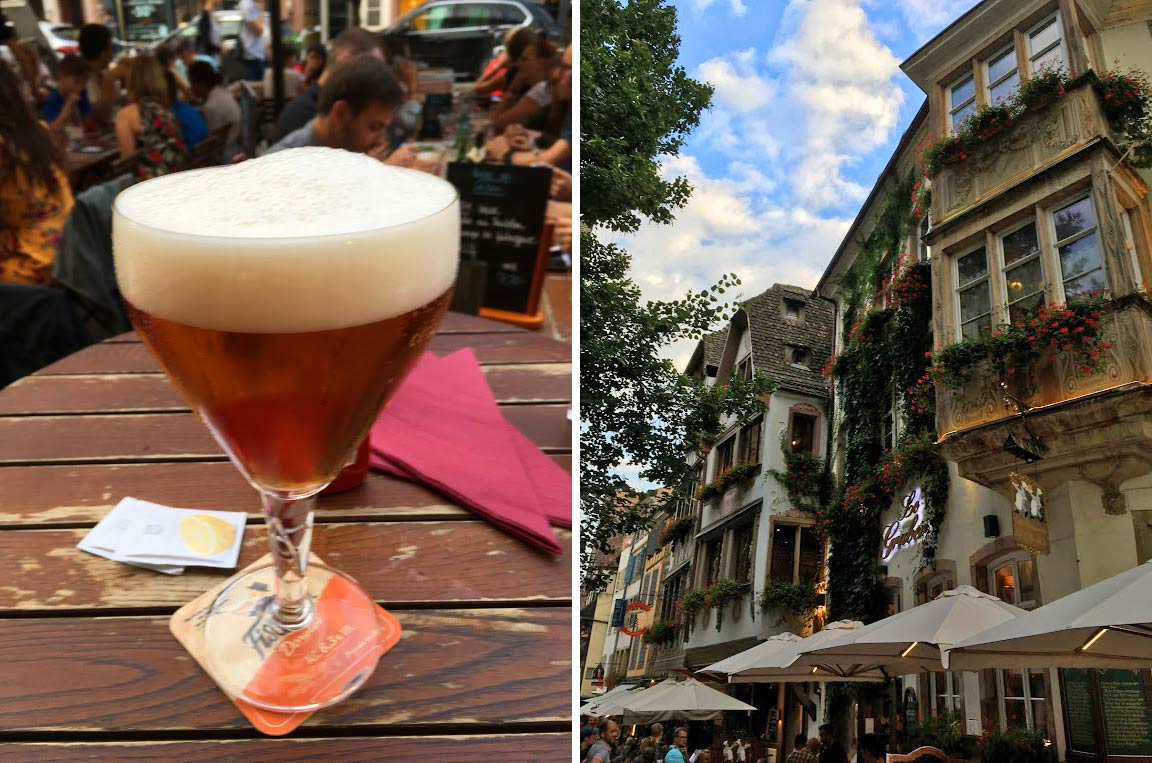 Tomorrow I'll be on my way back to Starzach!
I'll keep you posted!
Bonnie