That picture at the top is of the Rat Haus in Horb, which I think means it's the Town Hall in Horb. The figures painted on the side of the yellow building remind me of the historic mural in the dome of the Rhode Island State House – the one my partner Charles helped to restore a few years back.

Anyways, this morning I went back to Horb Am Neckar to meet with Michael Wildmann, the Director/Curator of the ArtPark in Horb. He's a great guy! He does have a small budget for public art, and he would take no commission if the art sells, so it looks like I'll be doing something at the Park! Not sure what I want to do yet, but I'm sure inspiration will strike soon!

Michael took us on a guided tour of the village that ended in a visit to the Park, and then there was a long walk back, down streets and alleys, where every view is as beautiful as the one before….it's amazing here in Horb!

I was both surprised and delighted to see modern art sculptures here in Horb. They really "pop" against an iconic old German backdrop! So cool! And here's some interesting trivia for ya: See that older man in the background of the second picture? He was the inspiration for the "Keep On Truckin'" character that was so popular in the seventies…..Wow!

I've been trying to pick up German words whenever I can. But knowing a word, remembering it, and looking for an appropriate situation to use it is not really speaking the language. I mean….even Koko The Gorilla could ask for a beer and call in an order for Chinese food. No, when you speak a language it has to be a part of you – it has to bubble up and come right out without a great deal of forethought. And that happened today. I think I spoke German for the first time. It happened because I stopped in to a bank to exchange my US dollars for Euros. The exchange rate wasn't great at the airport, and it wasn't any better at the bank. I handed him the money, he handed me the Euros. I looked at the receipt and immediately yelled in perfect German "WAS ZUM TEUFEL!!" which I'm pretty sure means……WTF!!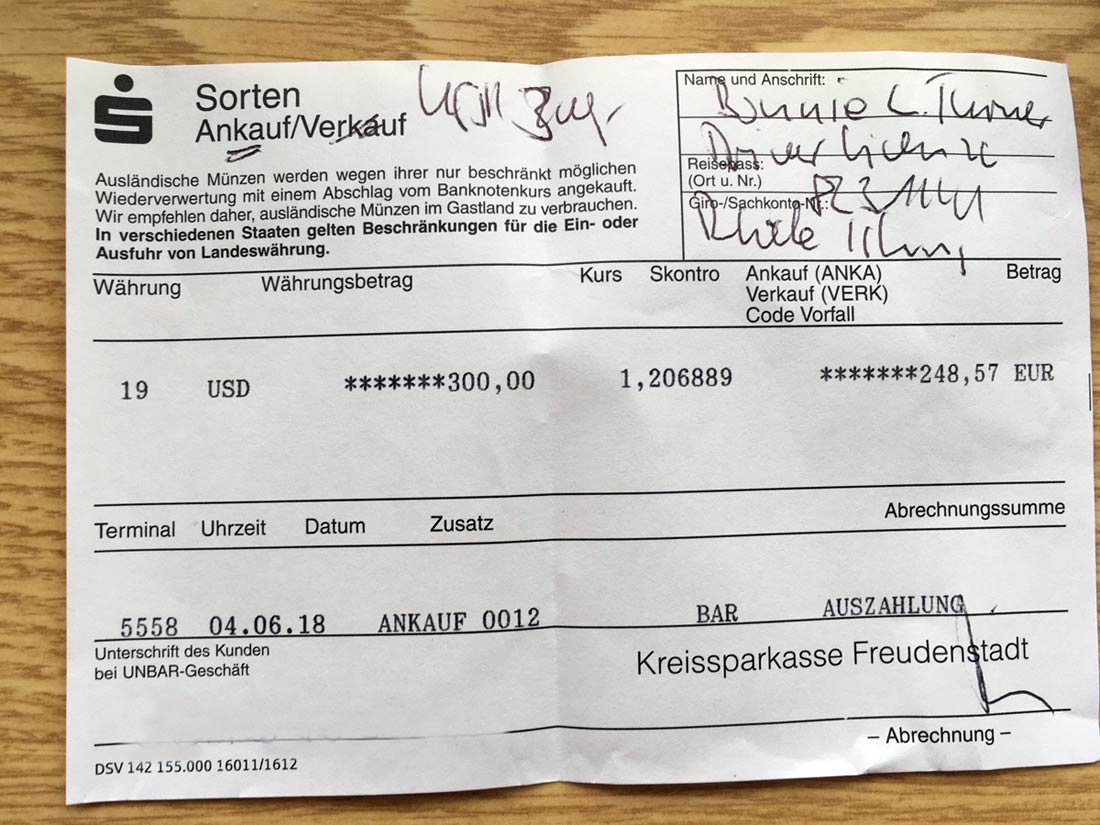 To finish out our visit to Horb, we stopped in at the Da Vinci Italian Caffe for some much needed kaffee (as it is spelled here).

And finally…..The air quality here is great!!! Every night and every morning, the crickets chirp, the birds sing….I feel like Amy Adams in that movie Enchanted! One thing, though: I have NEVER EVER EVER seen such big bugs!!!! Bees you could ride!!! The other day I heard a lawnmower running – indoors – so I peeked outside my room and it was a bee stuck in the hall. He was angry and furiously trying to get out. I wanted to help him but he was HUGE. Maybe if I was wearing body armor and had a couple of tennis rackets and a flame thrower, maybe….but short of that…..I don't think so! Getting eaten by a giant German bee would really put a damper on my Residency….
And finally: I asked for a fan for my room because it gets so hot when the sun comes in during the day. They showed me that I have motorized awnings…who knew? !YAY!  #kunstortELEVENartspace
I'll keep you posted.
Bonnie